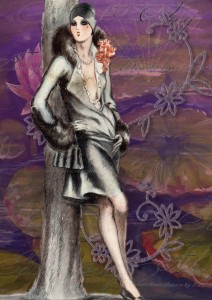 Everything is connected. Mainstream science and spirituality will both often teach us (subtly or overtly) that there is a fundamental separation between form and spirit, body and mind, seen and unseen. In fact, this is in fact a myth. Rather than shunning the body and the physical world (as religion sometimes seems to recommend) or shunning the emotions and spiritual world (as science sometimes seems to recommend), the point of power lies in seeing the inherent connection between the two, and honoring our rare, miraculous time here on earth in a human body, as well as all our experiences, sensual and sublime.
One way I love to do this is by finding the sacred within my everyday actions and routines. With this in mind, caring for and adorning our bodies, especially, can be a beautiful and satisfying act because it can remind us of the preciousness of our life and of the inherent divinity within our very being. Like adorning an altar, we can choose the colors, fabrics, patterns, textures, and scents that align us with the truth: that mundane is the illusion and only magic is real.
Besides, you're going to get dressed and care for your body anyway, so why not let it be a meditation and an act of devotion?
Here are ten ways you can start to do this right away.
1. Bless your shower or bath water. Water is our sacred birthplace: the womb of life and a symbol and vessel of vitality, cleansing, and emotional healing. It's also very receptive to our thoughts and feelings: saying a blessing or invocation (silently or aloud) before you get into the shower or bath can infuse your water with powerfully positive vibes. For example, I like to envision the shower water streaming down like golden white light, or the bathtub being filled and surrounded by a sphere of golden white light, as I think or say "Great Goddess, please infuse this water with vibrations of healing, purification, and love. Thank you."

2. Make choices that honor the earth and your fellow earthlings. Nothing feels more sacred than honoring our connection to the great web of life. Taking the time to find secondhand or responsibly made clothes, and choosing cosmetics and toiletries that are biodegradable and not tested on animals, are everyday ways to do just that. Making kinder and more compassionate choices has the added benefit of allowing us to radiate – subtly but substantially – a more authentic form of beauty.
3. Lovingly care for your skin. Our skin is literally the place where we make contact with the outside world. And it's permeable: it absorbs not just lotion but also sensory perceptions and information from everything we touch and even the air around us. By lovingly caring for it, we are giving ourselves the message that we are precious while strengthening our sense of protection and confidence. So really take the time to gaze at every inch of your skin: what does it need? Maybe some areas are rougher than others and could use a heavier moisturizer. Maybe some areas are irritated and could use an oatmeal bath.

4. Lovingly gaze at yourself in the mirror. While you're lovingly caring for your skin, you might take this time to lovingly gaze at every inch of yourself in a mirror. In our consumer culture, we are often taught to criticize and look for flaws so that we can "fix" them with any number of products that any number of companies are happy to sell us. In times like these, it is a revolutionary act simply to look at our naked selves in the mirror with nothing but love, acceptance, and adoration. Doing so regularly is especially transformational: not just for us as an individual, but also – because we're all connected and consciousness is contagious – for the world.
5. Relax and breathe. Taking time throughout the day to assess your body and relax/release any areas that are holding tension, and to notice your breath as it goes in and out, can be one of your most potent beauty strategies. Deep relaxation, after all, is deep and authentic beauty. Not to mention, it makes everything more blissful.

6. Choose colors and styles based on the moon sign and day of the week. Being conscious of the planetary energies of the day of the week, as well as the moon sign, can connect you to the cosmos and help you ride the energetic tide of the day. (I wrote about this in Magical Fashionista, and I blogged about this here and here.)
7. Clear closet clutter. Releasing that which no longer serves you or defines you is a powerful act of magic and clears up energetic leaks that may be holding you back from living your most beautiful life. For more inspiration in this department, check out this blog post.
8. Light a candle during your morning makeup/cosmetics routine. Every component of your face has a divine/magical connotation: your eyes are where you see beauty and express your deepest essence. You mouth is where you receive sustenance and speak your truth. As such, morning makeup/cosmetic routines, when performed consciously, can be an endeavor of magic and manifestation. For example, as you brush and floss, you might think: I am clearing the way for abundance and positivity. As you put your eyeliner on, you might think, "I see beauty everywhere, and I generously share my beautiful soul essence with the world." And lighting a candle is a simple yet powerful act that can help focus your mind and align your actions with a sense of the divine.
9. Wrap yourself in colors and textures that make you feel precious and loved. Sometimes when I need an extra bit of comfort and joy, I wrap myself in a particular shawl that helps me feel like a treasured child wrapped in a cozy and comforting blanket. But everyday, we can honor ourselves by really tuning into the colors and textures that feel the most comforting and uplifting, and then wearing them.

10. Be a devotee of beauty. There is a common conception that focusing on our own beauty is shallow and materialistic. And that certainly can be the case if we do it with a lack of consciousness or connection to All That Is. But the truth is that true beauty is an aspect of the Divine, and that as humans, we desire to connect with others and be seen. So when we take the time to amplify and express our unique beauty, it can be an act of love and devotion. When we do it not with a feeling that we want to outshine others or make ourselves better than anyone else, but rather that we want to honor our unique personal essence and generously share that essence with the world (since no one can compete with our uniqueness anyway, because it is utterly unique), we are giving a gift. Authentic beauty, after all, helps elevate and illuminate the world: it increases happiness, opens hearts, and helps infuse the human race with kindness and compassionate connection.