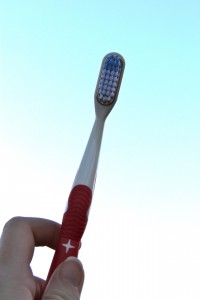 While reading
Real Simple
magazine yesterday, I was struck by how much we all love a good "life hack" these days. You know, like using olive oil to remove tree sap stains, or a salad spinner to help dry your sweaters faster. With that in mind, I thought I'd present 10
magical
life hacks. These are essentially everyday activities that can help you create positive change in your life…that double as things you'd probably do anyway.
1. Brushing your teeth to call in blessings. In Chinese face reading, the mouth symbolizes the place where we draw in blessings and abundance of all varieties. If you think about it, this is very apt, as it's quite literally the place where we draw in just about everything we need to sustain us, namely air, water, and food. As such, when you brush and care for your teeth, you can do so with the intention to clear the way for minty-fresh blessings to enter your life experience. And the repetition – as most of us brush our teeth at least twice per day – makes this one especially powerful.
2. Cleaning out your purse (or wallet) to establish clarity and calm. Remember that part in Amelie when the narrator says, "She likes to empty out her purse, clean it thoroughly, and finally, put everything away carefully"? It truly is a likable pursuit! With such a limited area, it can't possibly take more than 20 minutes, and it leaves you feeling so clear, calm, and ready for everything.

3. Vacuuming the floor to improve your mood. Have you ever really / really really ever loved / a vacuum? I have. Regardless of how stressed, frazzled, or down you may be, it only takes five minutes to vacuum a room, and then boom: you feel pretty darn great.
4. Choosing an outfit to choose the tone of your day. When choosing what to wear, you can ask yourself "How do I want to feel today? How do I really want to feel?" You can tune into the colors and touch the fabrics and notice whether your mood goes up or down, or whether your sense of joy expands or contracts. This will enhance your personal essence, and nourish your soul, and align you with your most authentic desires.
5. Rolling up loose change to activate your finances. Whenever it's time to roll up the loose change, I get excited. I play music, burn incense, and get into the fun of it. After all, a bowl of old change feels sort of stagnant and useless, but rolled up it becomes currency and prepares to enter back into the universal flow. When performed with this awareness, rolling up your nickles and dimes can't help but activate your finances in the process.
6. Replacing your welcome mat to draw in beautiful new life conditions. When your old welcome mat has seen better days, what could be a more potent symbolic act than literally laying out a brand new one? Particularly when you choose exactly what it is that you're welcoming in: abundance? Nourishing friendships? Laughter? Romance? Success? Joy? Or why play small? Go with all of the above.
7. Arranging your bedroom to create the space for romance. If you want to experience romance, simply setting the scene for it can work as a powerful catalyst. Never underestimate its power to call in exactly the romance you crave. Take your time and choose the colors, textures, and images that feel romantic to you, and fine tune them until they feel just right.
8. Watering your plants to activate and enlist their magical properties. Plants always have their own magical signature. For example, ivy is highly protective, African violets have peaceful and loving vibrations, and jade plants emanate the energy of wealth. When you water your plants, be aware that you're contributing to their well-being. In addition to water, send them love and appreciation and silently request that they help you by sharing their healing vibration with you and your space.
9. Drinking water to fine tune your energy field and emotions. Water powerfully holds vibrations and can easily be transformed into a potion for any kind of energetic or emotional shift you desire. Working with flower essences or gem elixirs can help with this, or you can simply take a moment to bless your water and infuse it with a specific energetic and/or emotional quality of your choice.
10. Petting or brushing your companion animal to magnetize good luck. Dogs and cats are both considered to be luck bringers, and lovingly caring for a dog or cat always blesses you with luck. When you next groom your furry friend, know that every ounce of happiness and comfort that you bestow upon him or her will swiftly return to you, multiplied.

11. Making earth-friendly decisions so that all your needs are met and provided for. Our lives are inextricably interwoven with that of our beautiful Mother Earth. And it is her intention to provide plenty of food, water, shelter, and resources to every single one of her beloved children. When we honor and revere her generosity by recycling, reducing, reusing, and generally not being wasteful, we are far less likely to want for anything. This principle has been made famous by the precept waste not, want not. It's famous because it's true.