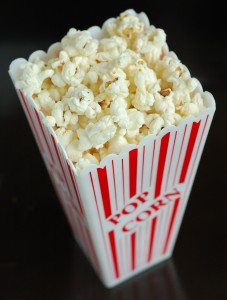 I had such a great time with the magical life hack concept, I thought I'd write a sequel. So here are 11 more everyday activities that can be quite magical when performed with a specific intention.
1. Making and eating popcorn to get stuck energy moving. I love making popcorn in a large pot on the stove. In addition to being fun and easy, it tastes about a million times better than microwave popcorn, and, since the lid to my big pot is clear, I get to observe the miraculous transformation of tiny, dense little kernels exploding into light, fluffy little radial balls of goodness. What better metaphor and actual representation of transmuting stuck energy into effervescent action and joy? Just heat a tablespoon or so of olive oil on medium heat, add about 1/3 cup kernels, cover, and gently move the pot. Align your energy with the kernels, and when they pop, feel yourself lightening up, and feel your energy moving in a positive way. When the popping slows, add salt, garlic powder, and a little bit of cayenne (if desired). Then eat to internalize the magic.
2. Paying bills to activate finances. Paying bills is a drag, right? Sure, but only if that's what you choose to believe. If, instead, you believe that the more you send out, the more you receive, it can be a prosperity spell. As you write the check or type in your credit card info, feel thankful for whatever service it is for which you're paying. Then, when you drop it in the mail or press send, envision your payment as a light-filled gift of gratitude for this and all the many blessings in your life. Feel positively rich. This way, exponential wealth will be irresistibly magnetized back to you like a tenfold boomerang.
3. Sprinkling cinnamon on your coffee (or tea) to magnetize wealth. Empower your cinnamon with the bright, golden light of wealth. Then, daily, sprinkle this wealth-drawing powder on your morning beverage. Like water dripping on a stone, this will have intense and lasting effects on your financial well-being.
4. Picking and deadheading flowers to clear the way for blessings. Now that I live in a home with plenty of spring flowers, I'm experiencing firsthand the power of picking flowers and deadheading old ones. For many flowers, the more you pick and pinch, the more abundantly they bloom. It's a classic case of the rich get richer: the more you enjoy what you have and let if flow, the more positive conditions rush into your life experience. So pick and deadhead your flowers with this awareness, and watch all blessings increase.
5. Laughing to open doors of possibility. Those of us who are constantly tuned into energy know that a deep, authentic laugh opens a doorway of light in one's energy field, connecting the mirthful one with a realm of light and resonance where positive opportunities abound.
6. Listening to loud music and driving to get out of a mental rut. When I notice my thoughts spiraling into less-than-joyful patterns, I like to listen to super loud music while driving. I can feel this actually moving the energy in my body and rebooting my thought process so that new patterns can more easily establish themselves.
7. Baking cookies (or pie, or brownies, etc.) to solve a problem. If you don't know what to do or feel that you're at an impasse, cook something up. The act of combining various ingredients to create something totally new and delicious will act on your consciousness in such a way that positive new perspectives, ideas, and instincts will naturally come to the fore.
8. Re-potting plants to expand your sense of belonging. I recently noticed that a lot of the houseplants I brought in when we moved last fall were ready for bigger pots. And I noticed that the act of re-potting them – giving their roots more room in which to spread – unmistakably helped me feel more grounded and at home in my new space and town.
9. Walking barefoot on grass to heal and balance your energy field. This one is super powerful and scientifically proven. Even a brief barefoot walk across the grass re-alignes and re-calibrates your energy field in such a way that you feel as if you've just had a powerful energy healing session or massage. It's truly amazing for your health.
10. Shredding (or burning) old journals and notebooks to make room for beautiful new experiences. As you may know from this blog post, I am a big fan of releasing old journals to make room for the new! As Pam Grout writes in E-Cubed, "You've heard it a million times. George Santayana's famous line, 'Those who cannot remember the past are condemned to repeat it.' I'd like to take this opportunity to point out that it is only our remembrance of the past that condemns us to repeat it. If we got up every morning with a completely clean Etch-a-Sketch, with not an iota of an idea of how so-and-so reacts or which dangerous road we think our world is heading on or even what the status of our financial situation, we would be free to write a brand-new story."
11. Fixing plumbing leaks to fix energy leaks. Water literally equals health, wealth, and all forms of prosperity. While most of us don't have to worry about where and how to get clean water anymore, the fact remains that it's a precious resource. When it's squandered through a leak in the plumbing, it always always mirrors an energy leak of some sort in our personal energy field. It could be an indication of a financial, health or energy drain, for example, or any combination of the three. So fix your leaks, and fix your energy! The importance and power of this cannot be over stated.