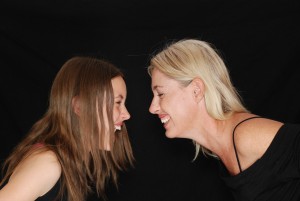 The better mood you're in, the more attractive you are, and the more easily and naturally you manifest the resources and conditions that you desire. The good news is you can always do something to improve your mood, no matter where you are or how much time you have. For example, the following ideas can relieve stress and boost your mood, and whatever your present circumstance, you should be able to find at least one that fits. (Or to think of one on your own.)
1. Read or think about outer space. When I feel caught up in everyday stress, I like to read about black holes or consider the sheer immensity of the Universe. Instantly, my perspective shifts and the stuff I'm worried about doesn't seem so stressful anymore. For instance, consider this Carl Sagan quote: "Who are we? We find that we live on an insignificant planet of a humdrum star lost in a galaxy tucked away in some forgotten corner of a universe in which there are far more galaxies than people."
2. Bring your attention to your breath. Even if you do this for one or two seconds, you will have a moment of respite from worries about the past or future. In Stillness Speaks, Eckhart Tolle writes: "The air that you breathe is nature, as is the breathing process itself…You reconnect with nature in the most intimate and powerful way by becoming aware of your breathing and learning to hold your attention there. This is a deeply healing and deeply empowering thing to do. It brings about a shift in consciousness from the conceptual world of thought to the inner realm of unconditioned consciousness."
3. Laugh from your diaphragm (even if you have to fake it). Laughing in this way helps relax the tight places in your stomach, solar plexus, and chest. It opens your heart and lifts your spirit, and even if you fake it at first, if you persist for just a moment you will often find yourself laughing in a genuine way, which will bring all sorts of healing benefits. This is the basis of laughter yoga. Or, if you don't want to fake it and you have something funny around to watch or read, do so. (My old standby for the purpose is James Thurber's classic book, The Thurber Carnival. Magically, it never fails to make me laugh until I cry.)
4. Vacuum. Oh, how I love vacuuming. It clears my mind, refreshes my spirit, and resets the energy in my home. Oh yeah, and it cleans the floor.
5. Do breath of fire for 1-2 minutes. This is a kundalini yoga technique. If you try it, you'll notice that it's quite energizing, clarifying, and activating. Here's a tutorial.

6. Light a stick of incense or diffuse essential oil. Scents are universally and traditionally employed for healing, inspiration, and creating a desired ambiance. The best way to choose a scent for the purpose of boosting your mood is simple: find one that you feel especially attracted to. Your natural preference will usually point you toward a scent that will be beneficial. Some of my favorite incense scents include nag champa, frankincense, cinnamon, vanilla, and sandalwood. Some of my favorite essential oils are lavender, geranium, ylang ylang, jasmine, and cedar. I like to have a little selection on hand so that I have options that will be likely to suit the various shades of my mood.
7. Take a shower or sea salt bath. Negative ions, which can be generated by steam, salt, and moving water, might be called a scientific term for good vibes: they help alkalize the body and boost energy. Additionally, water is the most natural of cleansers and helps move and clear stagnant emotion in order to get us into a more harmonious flow.
8. Watch a movie that makes you cry. It might seem backwards to watch a heart-breaking movie in order to boost your mood, but often what we perceive as depression or boredom is actually the result of suppressing our natural flow of emotions. Getting emotions flowing – whether through a happy cry or a sad one – can get us back in touch with ourselves. Additionally, our capacity to feel sadness helps expand our capacity to feel joy and vice versa.
9. Change your sheets before you go to bed. Who doesn't love the smell and feel of clean sheets? In addition to a more blissful night's rest, you will go on to experience the refreshing effects of that rest, which will continue the mood boosting benefits throughout the following day.
10. Do your mending. Do you have any clothes that need mending? Round them up and take a moment to mend them. Performing this simple act will not only reap the obvious benefit of having a more complete wardrobe, but will also act as a powerful symbol of repair, wholeness, and regeneration. You will very likely find that you will be left feeling much more balanced and empowered.
11. Take 10 minutes to do something just for the fun of it. No redeeming or self-improvement side effects necessary. Shop in a thrift store, read a gossip magazine, or grab a cup of soy chai at the local coffeehouse and people watch. Even if it feels at first as if you have to force yourself to do such a thing (your logical mind may vehemently try to talk you out of it), you must persist. You will soon experience a rush of mood-boosting joy, and will wonder why you didn't do it sooner.
12. Walk barefoot in grass. Scientists have found barefoot grass walking to be beneficial to our moods and health like you wouldn't believe. After one of my favorite hikes at a park in the Santa Monica Mountains, I come upon a wide expanse of mowed green grass. It's a little ritual of mine to take off my shoes and socks and walk barefoot until I arrive at the parking lot. It feels amazing.