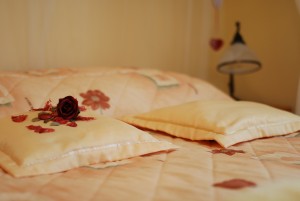 The more I travel for author events, the more I find myself mastering the fine art of living well in a cheap hotel room. My recent stay at a Ramada (where a highway non-elegantly careened right by my window) was particularly inspiring in this regard. As such, I thought I'd share what I see as the three essential keys to transforming a soul-sucking room into a soul-nourishing one. Plus three non-essential extra credit keys.
So, here we go:
Essential Key #1: One strand of white Christmas lights. What is the biggest difference between a pleasing atmosphere and an unpleasant one? Lighting. And when it comes to creating a magical atmosphere, I've said it before and I'll say it (a million times) again: white Christmas lights. They soften everything (like freaky curtains and wonky paint jobs) and create instant ambiance. Store one short strand in your suitcase, and you've got an instant vibe. You'll have to see where to put it when you get there, but finding a way to position it across the headboard might be a good bet. Then it can serve as your main lighting strategy, and you can employ other lamps around the room as needed.
Essential Key #2: A tapestry, large scarf, or sarong. You know what sucks? A big, blank, centrally located TV screen in a small space. And I mean sucks in something of a literal sense: it sucks energy, attention, and magic out of the room. So cover that thing! A pretty sarong or scarf will do the trick.
Essential Key #3: An aromatherapy product. Let's face it: sensitive people with delicate energetic palettes (like us) feel unsettled by stuffy institutional scents and the lingering fragrance of lots of different people who have been there before. So bring a small aromatherapy mist or travel candle, and replace the stale mystery scent with the scent of fresh sage, or lavender, or cedar (or all of the above).
…And now for the non-essentials, which can also add quite a bit.
Extra Credit Key #1: Fresh flowers. Of course, if you're just staying for a short while, it might not be practical to spring for a fresh bouquet. But it really does add so much aliveness and energy to the space! And it also helps combat the stale fragrance problem (see above).
Extra Credit Key #2: One or more sheer scarves. It's almost like the people who decorate cheap hotel rooms look for the harshest and most un-magical lighting they can find. But a sheer scarf draped lightly over a lampshade can make all the difference!
Extra Credit Key #3: New Age music and/or white noise. As in the case of my highway-adjacent room, it might be desirable to mask the prevailing noise patterns. Personally, I opted for Anugama's Shamanic Dream during waking hours, and my trusty TM Soft white noise app for sleeping. (Bonus: the white noise can also be mixed with your music!) I didn't bring a speaker or anything, I just used the speaker on my phone.
…So this is what my travels have taught me thus far in terms of hotel room vibology. Please let me know in the comments if you know other secrets that may contribute to my continuing education.