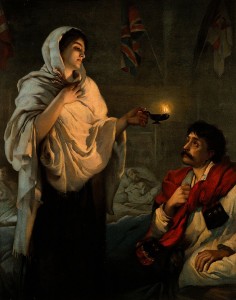 The Pope doesn't have a monopoly on deciding who gets to be a saint…Well okay, according to official Catholicism he does. But according to the rest of the world, there are some people who live such amazing lives, perform such courageous deeds, and leave such beautiful legacies, that their sainthood veritably decides itself. Florence Nightingale, whose birthday it is on May 12 (which non-coincidentally coincides with International Nurses Day) is certainly one of these beloved secular saints.
Considering that you can easily read her Wikipedia page if you want to know the historical details of her life and work, I am not going to get encyclopedic here. But what I am going to do is give you three reasons why, on May 12, lighting a candle to this early advocate for women and founder of modern nursing is a really, really good idea.
(I'm thinking a print out of the image at left in a small frame with a white pillar or votive candle nearby would be perfect.)
1.  Henry Wadsworth Longfellow wrote a poem about her in which she was poetically synonymous with the beloved, formerly official (now unofficial) Saint Philomena. It's called Santa Filomena, and includes the lines,
A lady with a lamp shall stand
In the great history of the land,
A noble type of good,
Heroic womanhood.
(According to Judika Illes in The Encyclopedia of Mystics, Saints, & Sages, "Philomena is matron saint of desperate, lost, impossible, hopeless, and forgotten causes. She is credited with miracles including healing cancer, heart conditions, infertility, and festering wounds…Philomena is venerated in several African Diaspora spiritual traditions. She…is recognized as a miracle worker.")
2. In a letter, she once wrote this about religion: "Can the 'word' be pinned down to either one period or one church? All churches are, of course, only more or less unsuccessful attempts to represent the unseen to the mind." The granddaughter of a famous abolitionist who happened to be Unitarian, she expressed interest and respect toward many different mythologies and spiritual traditions. Ahead of her time much?
3. In Notes on Nursing, she wrote: "I use the word nursing for want of a better. It has been limited to signify little more than the administration of medicines and the application of poultices. It ought to signify the proper use of fresh air, light, warmth, cleanliness, quiet, and the proper selection and administration of diet — all at the least expense of vital power to the patient." Clearly, she was talking about a holistic approach to healing, and even mentioned "vital power," which sounds identical to that life force energy that is known variously in Eastern healing modalities as "prana," "chi," and "qi."
In conclusion, if it's your intention to align with and express your power, employ your healing abilities bravely, connect with the Divine in your own personal way, empower women, heal yourself or another, or support the study of any type of ancient or modern healing practice, lighting a candle to Florence Nightingale on her birthday (May 12) would be an excellent idea.