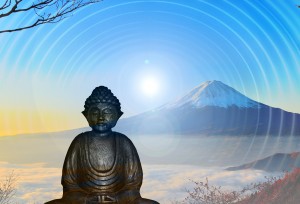 At this point, I'm pretty sure we've all heard how important it is to meditate. While spiritual teachers have been recommending it forever, mainstream science and media outlets are now finally jumping on board. Still, let me just summarize: meditation brings noticeable (and scientifically proven) benefits on every level: mind, body, spirit, emotions, relationships, and even life conditions. Truly, if you were going to make one simple change in 2015, you couldn't do much better than meditation.
That's why I've prepared some basic tips for how you can actually (really and truly!) do this…And none of them involve apps. Maybe it's just me, but even just the word app starts to steer me into that uniquely modern, technology-fried head space that cancels out the benefits of meditation before they even begin. Of course, if you love your meditation app and it works for you, great! I just personally prefer to pair my meditation with at least some degree of technological unplugging. (Meditation music and the occasional guided meditation recording notwithstanding.)
Anyway, here we go, some tips to help you really and truly get into the groove:
1. Be careful with the word "resolution." Words are powerful things. And the word "resolution" tends to work great for the month of January, particularly when the sun is in Capricorn. We have just gotten over the holiday hump and we're ready to experience some austerity, focused intention setting, and hard work. But when the sun moves out of Capricorn and the buzz of the new year begins to wane, the word "resolution" can possibly become a barrier to success. For example, if you go a day or two – or even a week or a month – without behaving according to the dictates of your resolution, you might say, "Oh, I've failed," and just call it a day. On the other hand, if – at the end of January, when the word's magic wears off – you stop calling it a "resolution" and begin calling it something gentler, like a "goal" or "something I'm getting in the habit of," you can just come back to it again and again until it really does become a habit. It can support you in removing the rigidity and judgment and replacing it with gentle encouragement (always a more effective mindset).

2. Consider throwing out the word "meditation" as well. Kind of funny advice for a post about how to meditate, I know. But consider this: when we think "meditate," many of us think things like:
Boring and hard to actually do.
Something I'm "supposed" to do.
Something that might be easy if I lived in a monastery in the woods, which I don't.
But here's the thing: while there are techniques you can utilize if you so desire, the most important thing is that you just sit there. I am not oversimplifying here. Just sitting there, quietly, without checking your phone or munching on popcorn, for as little as five minutes – even if your mind wanders, even if you think about what you're going to have for lunch or don't attempt to still your mind in the least – is a gift to yourself that can bring amazing benefits. So you might start with the simple goal of setting a timer for at least five minutes (or ten minutes, or you might build up to ten, or only do ten when it feels right) and then just sitting there until the timer dings.
3. Switch it up (if you want), and keep it interesting. Of course, in time, or even right away if it feels good, in addition to just sitting there, you could enhance your experience in a number of ways. You could just sit there and…
Gaze at a candle flame, or a flower, or a houseplant, enjoying its beauty in peace.
Consider all the blessings in your life, and cultivate a deep sense of gratitude.
Notice your breath as it goes in and out, and when you notice your mind wandering simply bring it back to the breath.
Visualize your entire body and aura being bathed in healing and harmonizing white light.
Recite an affirmation of your choice, inwardly or aloud.
Perhaps switch it up according to your mood, or pick one to do for a week and then shift to a new one. But, again, the important thing is just sitting there for at least five minutes. You can definitely do that! Most of us can spare five minutes, even if it means staying up a little later or waking up a little earlier. And there really isn't a trick to just sitting. In fact, it's not difficult at all and you'll even start to like it. You can work up to ten minutes or more if you want, but I think five as a minimum is good, because it won't deter you from giving yourself that wonderfully precious time and space.
In time, you'll get in the meditation (er, I mean sitting there) habit, and it will feel just as natural as brushing your teeth or taking a shower (and just as important too)!