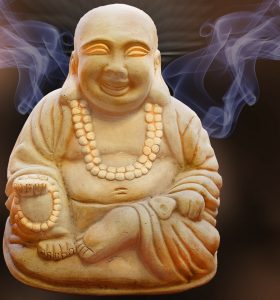 Today I thought I'd take a break from the DIY feng shui series and share some feng shui aphorisms that I have found to be especially useful.
 
1. "The confused mind says no." When your mind is confused about how to navigate some aspect of a structure or area, it's an indication that the natural, positive "chi" or energy flow (the universal flow of EVERYTHING, including blessings, wealth, customers, harmony, ease, friendship, etc.) may also be confused. In practical terms, this means that, for example, if your guests, customers, and packages aren't easily finding their way to your front door, blessings aren't either. So, in this case, you'd want to add an arrow, attractive signage, or large address numbers, perhaps post a "please use other door" sign, or paint your door a bright, noticeable color. Similarly, if a customer doesn't understand what you're offering, instead of taking the time to figure it out, they'll probably just say an inner "no" and go on their merry way. So make things plain and obvious: what do you sell? How do you get in the door?
2. "You are your house." On a very deep level, you identify with your home. You think, "what kind of person lives here?" and your life conditions shape themselves to meet that expectation. Conversely, your life conditions and patterns dictate where you live and the patterns that it begins to display in the physical world. Becoming conscious of this connection empowers you to make positive changes to your life momentum.
3. "A man without a smiling face must not enter a shop." One can take this one literally, and it's in many ways, obviously, true. One can also consider that the front door is called the "mouth of chi" in feng shui (the place where blessings and abundance enter your home), and if it's energetically "smiling" – i.e. it appears positive and bright – you'll be drawing blessings and abundance into your life.
4. "When the wind of change blows, some build walls, while others build windmills." "Feng shui" literally means wind/water. One might imagine that this is because chi/energy flows like water or air, both of which can be channeled into energy and abundance in a number of ways. Additionally, one of the main principles of feng shui is that everything is always changing. When we move with this change, and channel all movement and flow toward a blessing-filled life, we are exponentially more likely to experience joy and success. From a feng shui perspective, this would mean being alert and aware to how the energy is flowing in our home and life at all times, and adapting our habits and environment to best channel its present moment qualities. For example, in our home, this may mean noticing that the light shines differently through a certain window after a tree has been trimmed, and hanging a prismatic crystal to catch the light and spruce up the room as the branches begin to fill back in. Or, in our business, it might mean being aware that a new technology is gaining popularity, and working with that trend rather than trying to fight it.