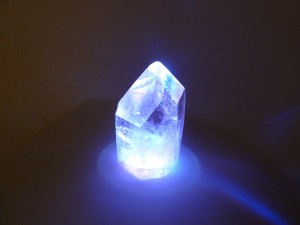 We all have psychic abilities to some extent.  Here are five habits that can clarify, enhance, and cultivate our inherent intuitive gifts.
1.  Drink lots of water.  This will keep your energy clean, bright and open.  To strengthen the effect, bless the water before you drink it to infuse it with positive vibrations that are attuned to divine wisdom.
2.  Meditate for at least 10 minutes daily.  If you're someone who has had trouble meditating in the past, keep in mind that the important thing is that you sit quietly for 10 minutes.  There is no right or wrong way to meditate, and it helps to approach the practice with an easy, breezy state of mind.  Then, in a gentle and positive way, begin to focus your mind on your breath in and out, a mantra, or a meditation CD.  When you notice that your mind has wandered, simply bring it back with no judgment.  (But if you notice yourself judging, smile to yourself and stop the chain of judgment right there by simply bringing your mind back to your focus.)
3.  Clear and shield your aura at least once per day.  You can do this by mentally envisioning and asking for Archangel Michael (or God/dess or whomever feels right to you) to remove all dense, negative vibrations, blocks, or energetic cords from your chakras and energetic field.  Then ask for/envision that your aura is shielded in very bright white light and/or very bright indigo light, in which only love remains, through which only love may enter.
4.  Eat clean.  The more positive the vibrations of the food you eat, the more you will be attuned to divine wisdom and information.  This means eat more fruits, vegetables, and nuts and eat fewer animal products and overly processed foods.  It also helps to bless your food before eating it.
5.  Dis-identify with your ego.  We all have an ego, which I define as the illusion that we are somehow separate from everyone and everything else in existence.  But when we notice the difference between our ego and Who We Really Are, and realize that we are not our ego, we are more able to access the realm of all-knowing and all-seeing.  Because, of course, the ego, being a two-dimensional illusion, isn't intuitive at all, while the True Self knows all!
Further study for each habit:
1.  The Hidden Messages in Water by Masuru Emoto
"Magical Drinking Water" in Llewellyn's 2010 Magical Almanac by Tess Whitehurst
2.  Guided Meditation (Audio CD) by Jack Kornfield
3. Master Meditations (Audio CD) by Sapokaniona Whitefeather
Personal Alchemy by Amber Wolfe
4.  Conscious Eating by Gabriel Cousins
5.  A New Earth by Eckhart Tolle