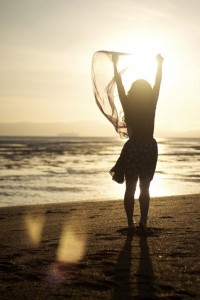 What is magic, really? I define it as employing your consciousness to affect the quantum field in a way that brings about positive change in accordance with your will. In other words, it's science! It's also what many people like to call metaphysics and The Law of Attraction. Everything really is connected, after all, and everything is energy. So there's no reason in the world, for example, why clearing clutter out of your home couldn't conceivably contribute to shedding weight from your body.
Which brings us to the topic of our blog post, and the first of five ways you can use magic to help you lose weight.
(Next time you feel compelled to lose a few pounds, instead of limiting your calories or handcuffing yourself to a treadmill, try coming at if from a different angle, and employ every single one of these. Think of it as your magical diet plan!)
1. Clear Clutter. I've said it before, and I'll say it again. When you get rid of clutter in your home, you automatically get rid of clutter in your mind, body, and spirit. This includes excess weight and unhealthy habits. Clearing clutter also gets your energy moving, which promotes a natural desire to move your body more often (i.e. exercise).

2. Spend Time in Nature. No matter how fancy technology gets, and how many hours we spend indoors under electric lighting, the fact remains that just like a tree or a rock, a human being is nature. As such, regular time spent in outdoors in natural settings attunes us deeply to our natural rhythms. This helps us digest, balances our metabolism, and makes us many times more likely to choose healthy foods and behaviors.

3. Breathe Deeply. My dear friend, the holistic nutritionist Rachel Avalon, taught me that infusing our body with oxygen through deep breathing actually helps us digest our food in much the same way oxygen helps a fire burn more brightly and transform dead wood into fuel. Indeed, have you ever noticed how much better food tastes when you're camping outside in the fresh, open air? Additionally, breathing deeply and consciously brings you into the present moment and aligns you with the wisdom of your body, so that you'll be more likely to choose foods and activities that support your optimal weight.
4. Bless Your Food. In her excellent book E-Squared, author Pam Grout recommends undertaking an experiment related to how you think about your food. She writes, "In this experiment, you're going to give up your ongoing grudge against the food you eat. You're going to think of every single morsel that enters your body as your best friend, or at least a thoroughly nourishing acquaintance." She goes on to suggest that you not judge yourself or your body as you eat, and that you take a moment to bless your food – to give thanks for it and to mentally align it with the energy of the Divine in a way that feel powerful to you – before eating. Try it for at least a week. See if you don't begin to not only easily lose weight, but also to feel better about the whole food and body image thing in general.
5. Nourish Yourself. Looking back, I can see that the times that I had the most challenge with maintaining positive eating habits were the times that I felt the least nourished in other areas of life. So assess: how could you nourish yourself (in non-food related ways) more? Certainly numbers two and three in this list will help, as nature and breath are excellent ways to nourish ourselves. But what else? Does color nourish you? Maybe you want to paint or get one of those trendy new grown-up coloring books. Other ideas for self-nourishment:
Fresh flowers in your environment
Time with friends and family
A trip to a thrift store for an inexpensive and eco-friendly wardrobe upgrade
Inspiring music
Incense or essential oils
A juicy novel
…Hey, thanks for reading! And if you try this weight loss plan, keep me posted on your results.