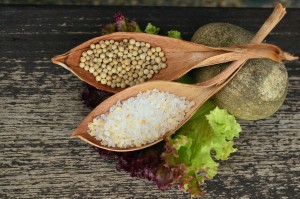 I like my magical ingredients to seamlessly blend into my life.  Although the idea of a cabinet entirely devoted to exotic resins, pungent powders, and hard-to-find roots seems romantic, I prefer the K.I.S.S. method (Keep It Simple Sister) when it comes to magic and everything else.  If I feel I absolutely need something out of the ordinary (like, say sulfur powder or mandrake root), I'll get it.  Otherwise I stick to the basics.
Speaking of basics – these 6 ingredients, which you probably already have in your kitchen, can work in a pinch (pun intended) for most of the usual magical intentions.
Sea Salt absorbs and neutralizes negativity.  Here are a few ways it can be magically employed:
For a no-hassle way to clear the space in a room, place a bowl of sea salt in a central location overnight and flush it down the toilet in the morning.
I have worked with therapists who like to hide a bowl of sea salt under the patient's chair or couch to absorb residual negativity throughout the day.
Immerse crystals in bowls of sea salt, or in water with sea salt, to cleanse their energy.
Sprinkle or throw sea salt lightly around people, objects, or rooms to clear their energy.
Dissolve 3/4 cup-1 cup of sea salt in a warm bath and soak for at least 40 minutes to detoxify your physical body, chakras, and energetic field.
Black Pepper, especially when mixed with sea salt, is great for banishing unwanted conditions, energy, people, and so forth.  Simply mix equal parts of each, and try things like…
 During the waning moon, mentally charge a black candle with your intention to banish whatever it is you'd like to banish.  Then sprinkle a tiny bit of the salt/pepper mixture on the candle and light.  All at once or at intervals, allow the candle to burn all the way down.
 Sprinkle the mixture on a symbol that represents whatever you'd like to banish.
Cayenne Pepper activates!  For example, to stimulate your finances, you might sprinkle some in your wallet or on your bank statement.  (Just be careful not to rub your eyes afterward, or you'll activate your tear ducts!)
Garlic disperses negativity like sunlight disperses shadows.  Ideas:
I like to wrap a clove of fresh garlic in red fabric and safety pin it to the inside of the center of my bra when I traverse spiritually treacherous places, such as Hollywood parties.
Place cloves or heads of garlic outside your front door to protect your home from less-than-savory entities, living or deceased.
Cut a clove in half and use the garlic juice to draw invisible (but pungent!) protective sigils on the outside of your front door.
When traveling, pack a head of garlic in your suitcase and place it in your hotel room to quickly disperse negativity and fill your room with comforting, positive vibes.
Sugar brings sweetness and sparkles.
I like to make a magical drawing potion with sugar and water called "hummingbird nectar."  Along with hummingbirds, it draws sweet romance and sweet success.
For a simple kitchen love spell to sweeten up an existing relationship, write your name and your partner's name on a slip of paper, surround them with a heart, and immerse the paper in a wine glass filled with sugar.  Stick a pink votive candle on top, light it, and voila!
To draw a new romance, try the same thing but instead of writing names, write "A sweet new romance now comes my way."
Basil draws everyone's two favorite magical intentions:  love and money!  Among other things, you might…
Put a few fresh, crushed basil leaves or basil tea in your mop water for a prosperity floor wash.

Empower basil with romantic intentions and serve it (with delicious food) to a love interest.

Take a bath with a bit of sugar and a bit of basil to increase attractiveness and draw romantic attention.

After sweeping your doorstep, place fresh basil leaves under the mat to summon wealth into the household.