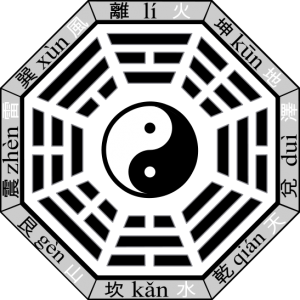 The bagua (or feng shui grid) is an ancient tool containing nine major life areas, each of which draws upon the wisdom of an aspect of the natural world.  When each of these areas is balanced, harmonized, and nourished, our life seems to flow beautifully and we feel divinely guided and supported.
Here are nine little ways we can nourish and activate each of the nine life areas:
Career/Life Path:  take a sea salt bath.
Serenity/Self-Love:  do yoga or listen to a meditation CD.
Health/Family Relationships:  plant a flower or tree.
Gratitude/Prosperity:  donate $5 to charity.
Radiance/Reputation:  do what you love to do and give it (services or product) as a gift.
Love/Marriage:  go for a walk in nature.
Creativity/Playfulness:  create something just for fun and then let yourself enjoy it.
Synchronicity/Miracles:  volunteer to help someone who needs it (charity, friend, or family).
Synergy/Balance (Center):  recline flat on the ground for five minutes.