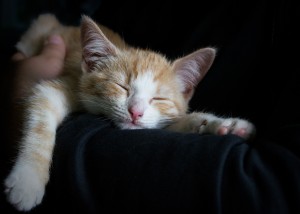 Something I get asked about a lot is how to get a good night's sleep. And though I've blogged about this before, I  wanted to share this systematic approach. It basically starts with the essentials and progresses to more specialized cures. The idea is to start with the first phase, and give it a week or two to see if your sleeping improves. Then, if you need to, to continue to subsequent phases, giving each a week or two as well. This goes along with the idea that the simplest solution is usually the best. What's more, this approach will streamline your efforts, insuring that you don't employ a cure that you don't really need.
Phase 1
1. Exercise rigorously – for ideally at least 30 minutes – daily, or at least 5 times per week.
2. Be sure your bedding is clean and comfortable, and make your bed daily. (Making your bed resets you psychologically and creates a visible invitation to rest.)
3. Clear all clutter out of the bedroom and create a calm, organized atmosphere.
4. Remove energizing items from the bedroom, including computers and exercise equipment.
5. Remove any items from under the bed.
If, after 1-2 weeks of following the above instructions, you do not notice a substantial positive change in your sleep patterns, or if you have already been following the above instructions, move on to phase 2.
Phase 2
1. Cover or remove all mirrors from the bedroom. (Mirrors can be unsettling and energizing to some.) If you have mirrored closet doors, consider curtaining them like sliding glass doors.
2. Be sure your windows are covered at night in a substantial way (i.e. very little light or movement should be visible through window coverings).
3. Cut back on caffeine. If you have two cups of coffee per day, for example, you might try cutting back to one, or even simply replacing one with a cup of green tea.
4. Finish your evening meal at least 2 hours before your bedtime, and forgo the after-dinner snacking (unless it's something light like an apple).
If, after following the instructions in both phase and phase 2 for 1-2 weeks, you still find sleeping to be a challenge, progress to phase 3.
Phase 3
1. Drink a cup of chamomile tea (or a blend containing chamomile, such as Sleepytime by Celestial Seasonings) before bed.
2. Take a calcium and magnesium supplement before bed.
3. Decide to give up on sleep altogether. What I mean is, see if you can just enjoy lying in bed comfortably rather than feeling that you have to make sleep happen. Tell yourself: "good rest is almost just as good as sleep anyway! So why don't I just relax my body and rest?" (I don't really mean that you should not hope to sleep, this is just a sort of psychological trick to play on yourself.)
4. Consider experimenting with a white noise machine or app.
Once again, after 1-2 weeks, if necessary, move onto the next phase.
Phase 4
1. Experiment gently with kava and/or valerian tablets. You might, for example, start with two valerian tablets the first night, then try two kava tablets the next night, then, on the third night, try one of each. Kava tends to be more of a body relaxer, while valerian is more of a mind relaxer. You can gently up the dosage to 3-4 total tablets per night (but keep the kava total to 1 or 2).
2. Keep an amethyst crystal under your pillow or on your nightstand. Cleanse it weekly with sage smoke, cool running water, and/or sage smoke.