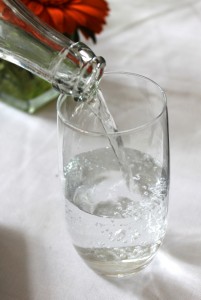 Do you think "hiccup remedies" never really work? I used to feel the same way. Until…
Years ago, I found myself in the "wellness tent" at the Northern California Womens Herbal Symposium. A beautiful woman with long white hair was making me an infusion of peppermint and chamomile to soothe my stomach when I suddenly came down with a case of the hiccups. "Ask HER what to do," my friend Sedona recommended with that note of 100% intuitive certainty that I've learned to trust. So I did. Without blinking, the healer-priestess (whose name I wish I knew so I could give her credit) answered:
"Have your friend seal and hold your ears closed by pressing on that little flap of cartilage. Then close your eyes and swallow ten sips of water."
So I did! And the hiccups were gone without a trace.
Not only that, but every time I've performed this cure since then (which is just about every time I've had the hiccups), my hiccups have disappeared immediately. Try it next time and let me know if it works for you.
P.S. And if you're wondering what to do if you're all alone, hold your own ears and swallow without drinking anything. I've had success with that one too but it's a little bit harder.