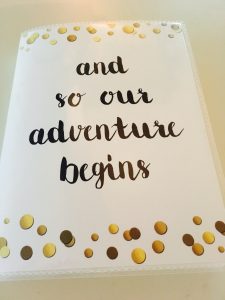 The first time I took the school bus when I was six, I was so nervous.
First that I wouldn't know where the bus stop was, second that I'd miss the bus or it wouldn't show up for some reason, third that the bus driver would get lost or stuck in the mud. I worked myself up so much, in fact, that I ended up sobbing and making a big (and mortifying) scene.
While I've improved quite a bit over the years, I still found myself a bit apprehensive before my recent trip to New Orleans for Hexfest. But there was so much to be excited about! It seemed a shame for all of that to be overshadowed my my travel anxiety.
Luckily, these days, when I find myself apprehensive, I get proactive: I call on Angels, visualize a positive outcome, light candles, and generally ask for all sorts of Divine help.
…And then, in the middle of the night, I received a transmission about how to shift my pattern of worry to one of excitement and fun.
And it was this:
Get a small notebook of some sort.
Break your trip down into the smallest possible steps.
Make one page for each step.
Embellish each page a little to make it fun.
Instantly, I knew this would work. The problem, after all, is never the present moment. I'm not concerned about, say, catching a plane on time or showing up at the right place for my author presentation. It's more the build up of seven million little steps: I feel like I have to hold them all in my head at once, and the details and possibilities overwhelm me.
(Have I mentioned I'm a Virgo?)
Anyway, at the craft store, I asked for angelic assistance in finding the right book. (Angels are the perfect allies for travel – they're really swift, and great with orchestrating.) The notebooks didn't seem quite right, and then I came across the mini photo albums – and found one (pictured) that said "and so our adventure begins." Perfect! Built in sense of fun. Plus, it was only like $1.99.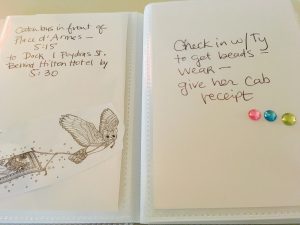 After typing out my itinerary to the minutest detail, I put on some music and lit some incense and began the project: all 20 pages of it. (I admit to feeling a little embarrassed when Ted poked his head in and asked what I was making, but it turned out he thought it was an excellent idea.)
So you may have guessed that I'm sharing this story because: whoa! It totally worked. I looked at one page at a time, and found it very easy to approach the whole trip (one section at a time) with a sense of adventure rather than dread.
Oh, and if you're wondering if this degree of micro-planning took the spontaneity out of it all: quite the opposite! Having the framework of the trip so sturdily mapped out made me feel free to change things around as I went.
In addition to this idea's own individual merit, I wanted to share this because it's an example of something I like to do regularly, which can sort of be described as feng shui-ing my brain. Or discovering a system that works with me specifically, even if it's weird and I've never heard of it before. It's basically a way of being proactive and creative about my own little hangups and challenges.
Because wellbeing has no limit, so we can always fine tune: we can always get to an even more harmonious and expansive place.