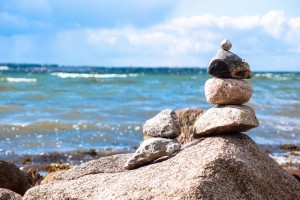 Right now – this very moment – is sacred.
To align with the sacred and this moment, wherever you are, sit up comfortably so that your spine is straight. Give each section of this meditation a little bit of space to sink in before you move onto the next.
Lightly touch your lower belly with your right hand and your lower back with your left hand. Breathe into your belly and send love to it as you recognize your body as a sacred space.
Notice the feeling of the breath going in and out of your lungs.
Feel your weight on the earth beneath you and think about how you are one with all beings on the planet, and one with the planet.
Now think of the planet as an integral part of the whole solar system, the solar system as an integral part of the galaxy, and the galaxy as interconnected with the incomprehensible infinite.
Return to your awareness to your belly, your lungs, and your weight on the earth, and consider that all this expansiveness dwells within your consciousness just as you dwell within this expansiveness.  In truth, there is no separation. All is a sea of boundless brightness and endless possiblity.
Continue to breathe consciously as your read.
Move your hands to your heart and breathe into your heart. Let the breath wash away your fear, activate your love, and heal your grief. Let your heart blossom like a flower and encompass everyone and everything with love, including yourself and this moment.
At all of our hearts dwells the same blinding light of love, and this love is everything, in this moment and always.