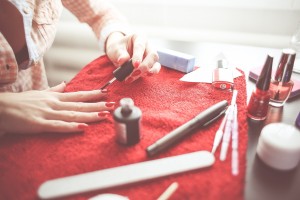 This is an excerpt from Magical Fashionista: Dress for the Life You Want.
As emanations of the powerful energy at our heart, and as the symbols and actual tools of receiving, doing, and creating, hands are very powerful things. And, as the ten tips of these powerful energy centers in our bodies, our fingernails can be intentionally employed for magical purposes related to these intentions (receiving, doing, and creating). For example:
Red nail polish can be employed as an activator: paint your nails red with the intention of energizing and empowering your goals and your degree of success.
Gold nail polish can help you receive and generate wealth.
Green nail polish can enhance your heart chakra and your power to give and receive love.
Silver nail polish can activate your receptivity, intuition, and alignment with the moon.
Light or medium blue nail polish can facilitate written or typed communications.
Feet symbolize understanding and grounding, and toenail polish can be intentionally employed to help you connect with Mother Earth, enhance understanding of a particular issue, ground you in a particular energy, or generally gain your balance.
Brown toenail polish can help you feel grounded and calm.
Green toenail polish can help you feel centered in wealth and abundance.
Red toenail polish can enhance your personal power and connect you with your roots.
Silver toenail polish can help you feel balanced, receptive, and serene.
Black toenail polish can help absorb excess energy and calm anxiety.
P.S. I love animals, so I always recommend cruelty-free brands!