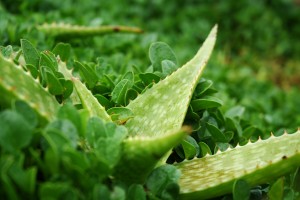 When I was in my 20's, I had an ongoing challenge with acne. And one thing that I found that actually did clear up my skin effectively was this tonic. I like to call it Beauty Juice.
Ingredients:
A small handful of each of the following dried herbs: burdock root, dandelion root, nettles, red clover blossoms
1 cup aloe vera juice
5 cups water
Bring a medium-sized pot of water to boil. Add the handful of burdock and the handful of dandelion. Cover, reduce heat, and simmer for 10 minutes. Add the handful of nettles, cover, and simmer for an additional 5 minutes. Remove from heat and add the red clover blossoms. Cover and steep 10 minutes. Strain and cool. Add the aloe vera juice, and drink 8-12 ounces per day.
P.S. Also be sure to drink lots of water, and eat lots of leafy greens and other fruits and vegetables. …And love yourself! And think positive thoughts! And get enough rest!
(Disclaimer: of course, everyone is different, so this strategy may not work for you as well as it did for me…But it also may!)