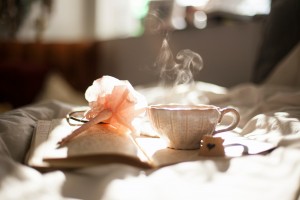 It's said that Nikola Tesla realized the existence of "frequencies" or "wavelengths" after having a dream that his mother died the night before she actually died. It's also said that, based on these realizations, he invented the radio. In other words, he had such a palpable experience with the unseen channels of information, he went on to create a device that could assemble clearly discernible sound streams out of these invisible frequencies. What I'm getting at is, invisible frequencies are real things. And, like radios, we are all wired to receive information from the unseen realms. It's just a matter of tuning ourselves effectively.
There are a number of ways we can tune ourselves in order to receive intuitive information more clearly and powerfully. One way is through the things that we put into our bodies, including the things we drink. This is because everything has a vibration, and, naturally, some vibrations are clearer and more receptive than others.
Please note that everyone's vibration is different, so you'll want to experiment and find out what works best for you. But to get you started, you'll find some ideas and guidelines for intuition-boosting beverages below.
Water. Simple as it may seem, water is absolutely rule #1 when it comes to any aspect of your intuition-boosting diet. It's emotion, intuition, healing, life and fluidity made manifest in the physical world, so when you infuse your body with it, your whole self (including mind/body/emotions/spirit/energy field) becomes awakened and attuned to the flow of life. It's ideal to drink at least half your body weight in ounces of water per day, and to bless your water with a quick prayer or visualization before you drink it.
Rosewater. It's said that roses have the highest vibration of any living thing, and real rosewater – when added to water or other beverages – can help open our hearts and refine our connection the the subtle realms.
White Tea. Even though it's very low in caffeine, you'll want to steer clear of this one if you don't do caffeine. Made from the tiny buds and young leaves of the tea plant (a kind of camellia), and gently dried in the sun, it has a very delicate and sensitizing energy. And, it can help open our hearts while also providing a bit of protection for those of us who might sometimes shrink from our intuition because of oversensitivity.
Rose Petal Tea. Like rosewater, rose petal tea infuses us with the high and positive vibration of roses. It opens our chakras and aligns us with the energy of love, and the divine realms.
Hibiscus Tea. Hibiscus tea is sensualizing: it brings us into our bodies. Because we can also receive powerful intuitive messages through our bodies, and because staying grounded in the physical realm helps with all aspects of our intuitive pursuits, hibiscus tea can be a great ally.
Mint Tea. With a high vibration and a simultaneously soothing and energizing quality, mint tea can help quiet your thoughts and fine-tune your body's electrical grid in a way that sensitizes and clears the way for psychic information to come through.
Fresh Fruit and/or Vegetable Juice. Very fresh juice has very fresh life force energy, so it enhances your receptivity by supercharging your energy field.
Blueberry Juice or Juice Blend. Blueberries are very aligned with the indigo color of the brow chakra, and can help open the third eye in a powerful way. By the same token, this means that for many of us, blueberries and blueberry juice can also help cure headaches.
Vibrational Essences. Vibrational essences such as flower essences and gem elixirs can help remove oppressive energetic patterns from our emotions and energy field, and can therefore help open our channels to receive intuitive messages.