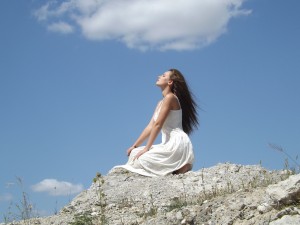 Since I'm not crazy about the word "God," I'm also not crazy about the phrase "Let go and let God."
Still, if we were going by Joseph Cambell's definition of God ("[A] metaphor that transcends all levels of rational thought"), I totally see where the phrase is coming from.
In fact, letting go and letting [that-which-transcends-all-levels-of-rational-thought] is essentially what the hand-it-over technique is all about. It's a way of releasing all the little ego traps and seeming limitations of the "little me," in order to merge with the part of you that is one with All, enter into the realm of all power and wisdom, bless and purify various aspects of your life experience, lighten you up, and generally saturate your life with ease, joy, and well-being.
It's super simple and you can do it anytime, anywhere. Here, though, I'll explain it in meditation form. Then you can do an abbreviated version as desired throughout your day.
Relax with your spine straight, close your eyes, and take some deep breaths. Slowly relax every part of your body in a way that feels good to you as you continue to breathe slowly and consciously. Get into a deeply relaxed state. You might also want to do a magical hygiene meditation at this time to ground and purify.
As you continue to breathe in this deep, relaxed way, call to mind the Infinite/Source/All That Is in a way that feels powerful to you. This might be a vision of a particular loving deity, emanating love and very bright light, or it might be very bright light itself, surrounding you in a ring of protection and receptivity. It could also be some sort of vision of the sky or cosmos, a forest of very old and wise trees, or really anything that feels transcendent, loving, and all-powerful to you. (We must have patience with our little brains for not being able to conceptualize the Infinite in a definitive way – after all, we can't even accurately conceptualize the vastness of the ocean, or the span of a thousand years, let alone the vastness of the Universe or the true nature of time. So just be content with a vision, thought, or feeling that gives you the briefest of glimpses into the Wonder and Mystery of It All.) Once this feels like a strong presence, begin to call to mind aspects of your life that you would like to purify, resolve, heal, protect, and/or bless, one at a time. Once you call something to mind, you are going to unclench your mental attachment to it, and release it to the infinite with total trust. If you like, you can attach a visualization to this, such as releasing something in a light bubble to be carried into the light of divine wisdom, handing something over to an angel or deity of your choice, or cutting yourself free of an energetic anchor and watching it fall into the deep, serene ocean of divinity. Once you release the item or concern in this way, the Divine and your True Self (which are one and the same), will allow the best possible solutions and conditions to surround it, and rush into your life experience. So, for example, you might call to mind and then consciously release your relationship with your husband, then the challenges at work, then your workplace in general, then your cats, then your childhood challenges, then cigarettes, then your child or children, then your relationship with your mom, then your eating habits, then your hairdo, then your car, then your bank account, etc. etc. Continue releasing any and every worry, care, relationship, item, person, or condition that comes to mind – nothing is too big or too small. As you release each thing, notice the burden lifting from your shoulders, or the relaxing lightness suddenly flooding your belly and heart. Now that you are surrendering the item to divine co-creation, you no longer have to worry about the "how" or the "when." What you need to know will be revealed to you. If an action needs to be taken, it will feel obvious and natural. Nothing needs to be forced, and everything will flow and unfold according to its nature, and in alignment with divine wisdom and power. 
When you feel the meditation is complete for the time being, thank the Divine/Your True Self deeply and from your heart. Follow up by surrounding yourself in a sphere of protective light. (Make sure you remember to breathe!)