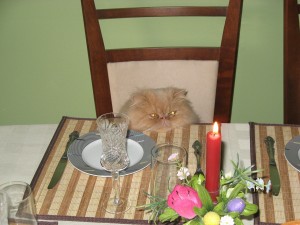 Q: Because my cats can jump so high and climb everywhere, I have no space they can't go. I can't burn candles at all because if I do, I have to watch them all the time and can't concentrate on anything else because the cats are so interested in candles and I'm afraid they will accidentally knock them over or set themselves on fire. I used to burn candles on the stove but my dad warned me that it is very dangerous place to burn them because the range hood always contains some grease which may catch fire.
Do you have any solutions to this problem that you would like to share for example in your blog? I would be very happy if I could practice candle magic again!
A: Ah, yes. Great question! I have been working around the cat issue with my candles for so long I had forgotten I was doing it! So thanks for bringing to my attention so that I could write about it.
It's pretty simple, actually. I just put all my candles in really tall vases or jars, and make sure to stay in the area while they are burning. This way, the cats may feel a little heat if they approach, but they will then be naturally repelled by the heat at the top of the jar, and they'll be safe from the open flames. And, when the jars are relatively solid, they will not be able to knock them over, or if they do, the flame will be likely to extinguish itself (or you will be in the area so you can immediately initiate damage control). This jar/vase thing has worked perfectly for me since I adopted my first cat over seven years ago.
Just make sure the flame is WAY down below the lip of the vase or jar. For example, a votive or tea light in an empty spaghetti sauce jar, or a small jar candle in a large flower vase.
Incidentally, I have found it helpful to get long matches in order to light smaller candles in larger containers. (I also sometimes use incense sticks for this purpose.)
Hope this helps!