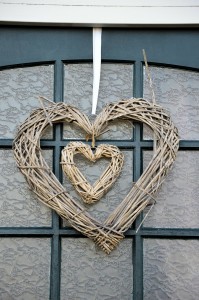 Yin Feng Shui: A Gentle, Stress-Free Guide to Harmonizing Your Home
, is a holistic body of knowledge presented in a series of 65 simple tips that will help you beautify and calibrate your home and your life. This is the first of those tips.
Where you live now is already perfect. Whether you live in a cluttery mansion, an empty apartment filled with unpacked boxes, a home with a leaky roof and plumbing issues, or a trailer way out at the end of a dirt road – or even if you're sleeping on someone else's couch – you couldn't possibly be in a more ideal place. How do I know? I know because the present moment always provides us with exactly what we need in order to grow in the most scintillating ways and realize the fondest desires of our hearts. Not only that, the present moment is all there ever really is, so once we cease fighting it and begin to embrace it, we become able to effectively focus our energies on creating the conditions we desire.Does this seem somewhat nonsensical? After all, if it's perfect already, why should you want to change it?
Because even as there is an eternal, timeless energy that underlies the appearance of this life experience, on the surface of things, everything appears as a kaleidoscope: always shifting and changing. Another way to frame this would be: imagine that life is a Hawaiian vacation. While you're sitting in the airport waiting for your departure time, you are in exactly the place you are meant to be in order to eventually arrive in Hawaii. Does that mean you should camp out in the airport instead of getting on the plane? Of course not. It just means that where you are now is perfect, and where you are going is perfect too. You can sit in the airport with joyful anticipation. You can watch the people walk by and wonder where they're all going. You can chat with your loved ones and laugh at their jokes. In other words, you can begin to celebrate the journey right away rather than constantly postponing your enjoyment of life.
So how can you love, or at least appreciate – at this very moment – the place you call home? Consider all of the things you value about your little corner of the planet. It shields you from the elements, for example. Perhaps you've always liked the view out the bedroom window. Maybe your shower has the perfect water pressure, or you adore cuddling up under the cozy throw blanket you keep on the back of the sofa.
You might say that feng shui is fueled by what is often referred to as "The Law of Attraction" – a dynamic that may also be described by the phrases, "like attracts like," "what we believe, we receive," and, "what we focus on expands." And, as Lao Tzu so famously affirmed, "The journey of a thousand miles starts beneath your feet." Giving energy and attention to the things that you already love about your space will put you in the best possible mindset for creating positive change, not only in your home, but also in every aspect of your life.