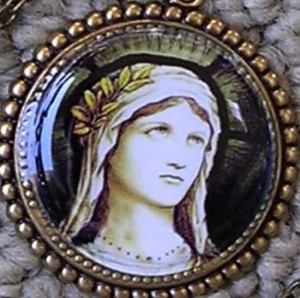 Today is the (unofficial) feast day of an (unofficial) saint named Christina, or Christina the Amazing, or Christina the Astonishing, or Christina Mirabilis. She died on this day in 1224, but the word is that it wasn't the first time. Apparently, she died once before and came back, only to be quite, quite mad – or perhaps holy, or both. She could reportedly fly, and she couldn't bear to be around others because her sense of smell was so keen that she couldn't bear their scent. (Considering the time period, I bet I may have felt the same.) Other seemingly mad behavior she indulged in included nesting in trees and riding around on a millers wheel for hours. All the same, she was very generous and utterly non-materialistic: she tried giving away all the possessions of the convent where she stayed, which quite unsettled the sisters who also called it their home.
In many ways, the report of her dying and then returning to life is reminiscent of Buddhist Bodhisattvas (such as Quan Yin) who chose to return again and again to help other souls realize enlightenment.
In The Encyclopedia of Mystics, Saints and Sages, Judika Illes writes, "…Christina…remained a laywoman who sought her own independent spiritual path. In life, she was considered a holy fool…Christina is invoked against depression and mental illness…[she] is portrayed as a young woman with disheveled hair sitting on wheel surrounded by snakes."
This time of year – when summer has reached its crescendo but hangs on and on and on – feels a little like madness, like turning on a wheel that might never slow down, and like flying too close to the sun. It seems appropriate, then, to honor this holy fool and to call upon her support not only for help with staying sane, but also for help with staying crazy in the most innocent and sacred of ways.