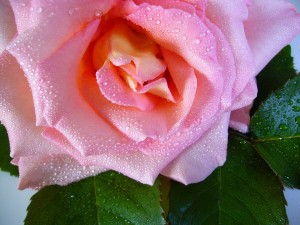 The hardest part of clutter clearing is the first 15 minutes–am I right? Once you get past those, the stagnant energy has begun to transform into vibrant, moving energy, and the whole process becomes charged with motivation and break-through-it-iveness.  This simple potion will help you not only to get through those 15 minutes with ease, but to actually enjoy them!
Simply add 4 drops of hornbeam essence and 4 drops of peppermint essential oil to a mister of rose water and shake.  Hold the bottle in both hands and say an affirmation, such as, "I now break through!  My will is unstoppable and I now triumph over clutter in every way!"  Make sure to direct the energy of the affirmation into the bottle.
Now, anytime you'd like to clear clutter, shake the bottle gently and lightly mist the area with the potion.  You can also mist yourself to infuse yourself with energy and motivation.  Even if you can't commit to actually clearing, but you wish you could, try misting yourself and the area and see what happens.  The potion can also help motivate you to clean house, exercise, or perform any other necessary-but-perhaps-daunting task…with joy!
PS – Beware if your skin is sensitive to peppermint oil.  Such a tiny amount should be harmless to most, but just thought I'd mention.