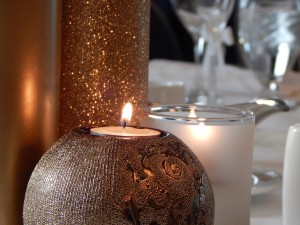 We are a species that thrives on beauty. Beauty opens our heart and awakens us to the sweetness of the mystery of life, AKA The Great Mystery, God/dess, or All That Is. And while there may be a superficial way to approach beautifying our bodies and environments, these aims can also be seen as acts of spiritual devotion and ways to awaken ourselves to the precious beauty that surrounds us always. It's like the folk song about bread and roses. Our bodies need food to survive, but our spirits need beauty just as much. 
 Truly, even if I am crying my eyes out over the wonder and heartache of it all, I still feel like there's never any way for me to even begin to comprehend the fullness of it. Maybe that's why we only use a small percentage of our brains: we haven't learned yet how to let ourselves perceive all the love and beauty all at once without going crazy or blind. 
At any rate, there's an infinite supply of beauty around us at all times. Our experience of it simply depends on how much light our soul's aperture is currently permitting to flow in. And by intentionally enhancing and decorating our homes and ourselves (e.g. by putting on lipstick with a lot of self-love, taking the time to plan an outfit that feels just right, or joyfully adding a bouquet of flowers to the table), we increase our ability to perceive and experience beauty in every area of our lives. 
For extra help with any type of beautifying endeavors – home, mind, body, or spirit – you might like to call on or contemplate a divine helper related to the purpose. Here are some ideas:

The Archangel Jophiel, whose name means "Divine beauty," or "beauty of God," specializes in lifting our spirits and helping us transform all our experiences into beauty. 

Lakshmi, the Hindu Goddess of wealth, loves to remind us that we are utterly deserving of all of life's luxuries, and that there is plenty of everything good – beauty, luxury, and prosperity –  for everyone.

Love goddesses of various pantheons, such as Aprhodite, Venus, Hathor, and Freya, provide archetypal examples of the natural feminine (and human) desire to appear beautiful, and remind us that when we share our radiant beauty with the world, everyone benefits.