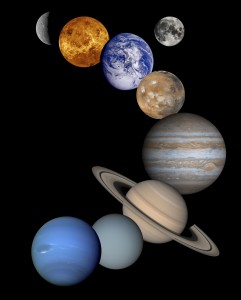 I once read that the definition of geometry is number in space, while the definition of music is number in time. And while I don't profess to be a science whiz, I have managed to glean that time and space are not as separate as one might think, and may in fact even be seen as two sides of the same coin.
I bring this up because this morning while I was meditating, I began to really feel and envision the constant choreography of our planet: the earth rotating around the sun, and the moon rotating around the earth. I thought about how each day of the week is named for a planet, and how each and every moment features waves of planetary influences based on this circular, rhythmic, multidimensional dance.
Of course this is something we all know about mentally, but to take a moment to envision it deeply is a powerful metaphysical exercise.
The magic that is our spiritual sustenance, after all, might be (almost) literally seen as listening to the music of the cosmos and dancing to it: letting our energy build and disperse with the moon cycles and the wheel of the solar year, and synchronizing the movements of our life to the beautiful nuances of the song.
What's more, consciously cultivating an awareness that we are a part of this intricate cosmic dance can help us remember that we are one with something far larger than our little bodies in space and the short span of our lives in time: something mysterious, incomprehensible, and vast.