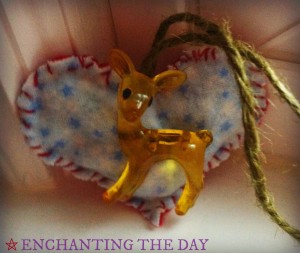 As you may know, I recently moved to a country house outside of Columbia, Missouri. As you also may know, I was previously a resident of Los Angeles. In LA, no matter how hard you try to follow the rules, it is all but inevitable that one day you will misinterpret a sign, or feed the wrong meter accidentally, and a ticket will appear on your windshield within seconds. This is why, up until now, I have driven with an amulet to ward off parking tickets hanging from my rearview mirror.
Now, however, parking tickets are not one of my worries. Deer, on the other hand, are. While we have been told to be careful of deer while driving, it was not until my partner Ted had to stop suddenly to avoid hitting one the other day that I realized it was time to switch out the parking ticket amulet for something a bit more location-appropriate: a deer protection charm, to keep deer safe from my car and vice versa. If you are in an area similarly populated by our magical fae friends (the deer or other animals), you may want to make one yourself.
Here's how I did it.
Ingredients:
A scrap of fabric depicting blue stars (a highly protective symbol)
A scrap of red felt (a highly protective color)
Protective botanicals (and/or other ingredients) as stuffing – I used oats (because "does eat oats") and a dried peach pit, but you could use mugwort, yarrow, garlic, and/or protective gems such as white quartz or hematite
A deer image (I was lucky enough to receive the pictured vintage pin as lovely gift not long after we moved, but you could use a patch or a paper scrapbooking image)
Sisal twine (hemp twine or ribbon will work too)
Cut one piece of the blue star fabric and one piece of the felt into the shape of the heart. Pin together and sew (wrong sides together), leaving a space at the top to stuff. Add protective ingredients of your choice. Tie a knot in the middle of a piece of twine. Pin the knot to inside top of heart, while pinning sides together as well. Sew closed, attaching the twine as you do so. Affix the deer image to the blue star side of heart.
Hold the charm in both hands and send bright light and positive energy into it. Charge it with the intention to cocoon your car in a pink bubble of light. See this light acting as a protective cushion and friendly deterrent that effectively keeps deer and other animals safe from your car, and your car safe from deer. You might invoke Saint Francis of Assisi – as I always do when animal welfare is involved – to help further protect your beloved deer neighbors in this way. (Of course, you could also invoke a different helpful being of your choice.) While you're at it, visualize all other animals being safely protected from your car as well: squirrels, dogs, cats, possums, skunks, racoons, etc. When your visualizing and intention-setting feels complete, say, "Thank you, thank you, thank you. Blessed be. And so it is."
Hang the charm from your rearview mirror, and let it serve as a reminder to drive with alertness, patience, and compassion.