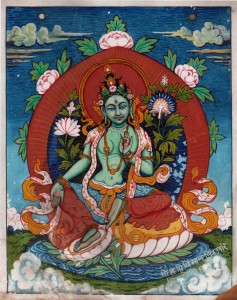 I can't say I love it when I catch a cold, but I can say I've come to welcome colds in a way.
There are a number of reasons why this is so. First of all, colds usually arrive right at the moment when I need to slow down a bit and have some enforced rest. Second, I've heard it said that one reason colds happen is because our immune systems are under-stimulated (i.e. bored) and they want to exercise themselves a bit, just to stay in ship shape. (Way to be proactive, immune system!) And finally, from an energetic perspective, I've noticed that colds seem to appear when there is a major shift going on in my life. I can sense that things are changing in such a powerful way that my inner equilibrium has been temporarily thrown off just a tad. Then, as I treat myself with loving care (with things like rest, Emergen-C, garlic, ginger, fresh vegetables, steamy eucalyptus showers, etc.), I'm not only helping along the healing process, but I'm also steadying myself for the positive changes and coming into deeper alignment with myself than ever before.
In other words, in many ways and on many levels, healing oneself is a very powerful spiritual act. It also gives us an opportunity to access divine medicine by calling on helpers that can strengthen and fine-tune our energy field, heal our ailment, and generally get us ready for for the exciting times ahead.  Such as…
Merlin: The archetypal magician/alchemist/master energy worker who fine-tunes our energy fields with his swirling vortexes of rainbow light.
Archangel Raphael: The archangel of healing who surrounds us with the vibrant green light that soothes, disinfects, and brings exactly what is needed.
Hygeia: The beautiful Greek goddess of health and healing. She can purify the atmosphere and purify our thoughts, feelings, bodies, and schedules in order to get more in alignment with the energy of health. (Pictured in Gustav Klimt's painting, above.)
Green Tara: When you feel your illness has descended because of overwork or because of feeling overwhelmed with everything you have on your plate, Green Tara can come to the rescue and help you feel supported by both the seen and unseen worlds, (And to feel comfortable accepting that help!)