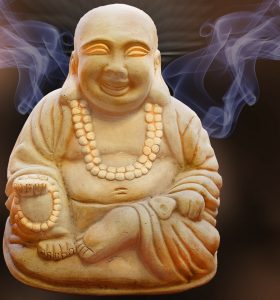 Wealthy and abundant living is a mindset. It is not dependent on how much money or resources you presently have, and it is not the result of a single set of rituals or feng shui placements. For example, one may feel wealthy and be in the flow of divine abundance with hardly anything in the bank, while one may feel desperate and anxious about the possibility of lack with a bank balance of millions. And your feelings and mindset are what determine the quality of your life, as they determine the way you process external circumstances. If you'll look within for just a moment, you'll agree that the way you process external circumstances has infinitely more power over your life experience than the external circumstances themselves. (And, in turn, over time, your external circumstances will shape themselves to mirror your internal state of abundance–or lack.)
With all this in mind, here are some everyday, moment-to-moment ways that you can fine tune your flow of life so that it you experience wealth, affluence, and ever-increasing abundance.
1. As a matter of course, notice the presence of abundance that is already everywhere in your life. When you open your cupboard or fridge, notice how much food you have. Appreciate your vehicle. Marvel at your long list of friends and family. Experience gratitude for having clean, running water whenever you need it. Feel awed by how many leaves are on the tree in your front yard, and how many will continue to be there over the years.
2. Easily release that which you no longer need or won't use. Donate old clothes and decorations, put old food in the compost bin, and giveaway food that you know you'll never eat. This will make room for the new and remind you that it's easy to release because you have faith that more will always arrive in perfect timing and in perfect ways.
2. Visualize increase. When you go to the ATM and put cash in your wallet, visualize your wallet bursting at the seams and your bank balance going up and up and up. When you open your closet, notice all your beautiful clothes and know in your heart that you will continually find and receive even more beautiful pieces at the perfect times and in perfect ways. When you have a free moment to relax, think about all the space and time in your calendar that will undoubtedly open up for you in future weeks and months. Get into the habit of expecting abundance, and give thanks for it as if it is already present.