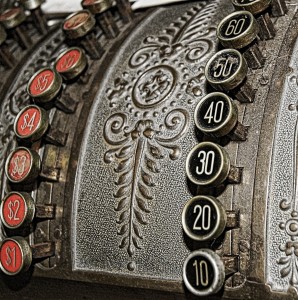 I know I'm not the only one who could use a little magical assistance regarding the topic of cash flow every now and then.  So here are five little tips that can serve as reminders and motivators for all of us.
1.  Create order.  On all levels – physical, environmental, emotional, and spiritual – clear out that which no longer serves, and organize that which does.  Wealth flows into our lives like water flows into a lake through a mountain stream.  We want our stream to be clean and open so that clear, sparkling wealth can flow into our lives in abundance.  Ideally, this is a daily practice which includes meditation, exercise, inner work, eco-friendly living, clutter clearing, and healthy eating.  The more we enforce these habits, the more they become like second nature, and the more we open ourselves to wealth.
2  Be grateful.  Nothing draws abundance like gratitude.  Notice and reverently acknowledge all the blessings, large and small, that fill your life.  From your home to your loved ones to the food on your table.
3.  Believe.  It helps me to continually remind myself that I really can enlist the help of the God/dess to co-create the conditions I desire.  I notice every truly miraculous condition that I'm already experiencing that was once nothing more than an inner vision and a passionate desire.  And, I remind myself that this really is an abundant universe, with plenty for everyone.  I know that the more I believe this, the more I will experience it in my life, because our life conditions always mirror our beliefs.
4.  Take guided action.  When we relax, release our cares and worries to the Universe, and trust, infinite wisdom is easily available to us.  In this relaxed state, we can ask questions of our truest and most divine selves and receive answers through out thoughts, feelings, and inner vision.  "What can I do to increase my cash flow?" we might silently ask of ourselves in order to receive exactly the answer that will best serve us at this specific moment.  Our answer will arrive as a thought, picture, or idea that gives us energy or makes us feel excitement and joy.
5.  Do magic.  Magical habits and rituals can tune us right into the flow of abundance.  There are so many little things you can do, but here are a few simple ideas:
Light a green candle with the intention to magnetize wealth
Burn patchouli or cinnamon incense
Diffuse orange or cinnamon essential oil
Put a few drops of gold essence under your tongue or in your water
Envision green or gold sparkly light filling your shower or bathwater
Hang a picture or painting that depicts an image that gives you the feeling of wealth in the gratitude/prosperity area of your home
Do the Oatmeal Cookie Ritual for Abundance and Luck (in Magical Housekeeping)
Empower a white quartz with your intention to attract wealth and place it in the gratitude/prosperity area of your home