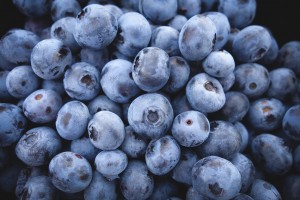 Foods that can help open your third eye and sensitize you to the subtle realms include:
A Plant-based Diet. Animal-derived foods can weigh our systems down, and digesting them often drains the very life force energy that connects us with psychic information. Additionally, they almost always carry the energy of pain, suffering, and/or imprisonment, which causes us to shut down our psychic faculties so that we can avoid tuning into these unbearable feelings.
Organic Foods. The more consciously a food is grown, the more life force energy it will have. And, the fewer chemicals it contains, the more it can enhance the electrical grid that makes up the invisible structure of our intuitive receptivity.
Raw Foods are closest to their natural, living state which means they contain more life force energy which can in turn nourish our personal life force energy and psychic abilities.
Blueberries are sensitizing, soothing, and opening to the third eye chakra, which is the seat of intuition.
Purple Cabbage, Purple Carrots, and Cauliflower. Purple and white fruits and vegetables resonate with and help open the crown chakra*, which is our connection to the Divine and our access to divine information.
Leafy Greens. Leafy greens nourish the physical heart and energetic heart*, both of which stimulate our energetic healing abilities as well as our emotional sensitivity and receptivity.