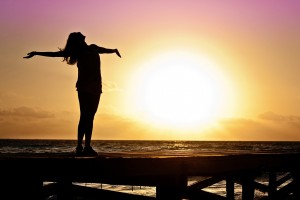 The more I read about healing from sexual abuse and child abuse, the more I notice that there appear to be two main camps. There are those who believe that forgiveness of one's former abuser is an important aspect of the survivor's healing process, and then there are those who believe that feeling the need to forgive one's former abuser can be harmful to the survivor's healing process.
The first camp believes that forgiveness strengthens the survivor, brightens her outlook, and frees her up to move forward in her life in beautiful and empowering ways. The second camp believes that pressure to forgive may rob the survivor of the opportunity to feel important (and completely justified) feelings of anger, and thereby squelch her healing and diminish her self esteem.
As I ponder these two schools of thought, both of which appear to have a great deal of merit, I can't help but wonder: what if this isn't a disagreement about the process of healing at all? What if it's actually a disagreement about the definition of the word "forgiveness"?
Words, after all, are just symbols. And with a somewhat abstract, spiritual/emotional concept like forgiveness, it's not at all farfetched to think that the word may mean very different things to different people.
With this in mind, I thought I'd take some time to define what forgiveness means to me.
Actually, let me start with what it doesn't mean to me:
It doesn't mean: "It's OK."
It doesn't mean: "I will pretend nothing ever happened."
It doesn't mean: "I'll never feel angry or sad about this again."
It doesn't mean: "I will put myself in a similar situation with you again."
It doesn't mean: "I like you again (or love you, or trust you, or want to hang out with you, etc.)."
It doesn't mean: "I don't deserve to feel my feelings about this issue."
Now for what it does mean to me:
I am no longer a victim.
I take full responsibility for my own life and for my own healing.
You don't have any power over me.
I am bigger than what happened to me.
I am more powerful that what happened to me.
I have the right to enjoy my life as much or more than I would have if this had not happened to me.
I can release myself from the grip of this situation and be free.
I can step out of the drama of this situation and connect with the big picture – with The Infinite (God/Goddess/All That Is).
I have the power to heal from this and any situation.
Even though I will not forget what happened, I release you, I release myself, I release this situation, and I go free.
Even though I may come back to my feelings about this in the future, I know that every step I take is a step in the direction of my healing and empowerment, and that I am more than equal to this and to every situation.