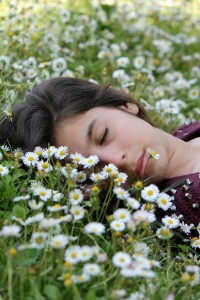 A good night's sleep is important for so, so, so many reasons, including beauty, clarity, happiness, and overall radiance. And here's a few non-pharmaceutical things to try if you find yourself needing some help in this area some nights.
1. Less caffeine, or a softer form of caffeine. I mean, sounds simple, but the truth is, if you're drinking a bunch of coffee and then being like, "why can't I sleep?" then drinking less caffeine, or a less harsh form of caffeine – such as from yerba mate or tea – is the obvious place to start.
2. Regular exercise. Again, a rule of thumb with heath and wellness is: start with the obvious. If you're not tiring out your body, it doesn't matter how tired your mind is, you might still have trouble getting good, quality rest. So move around and tire your body out – while getting toned and nourishing your heart health in the process.
3. A comfy bed and serene bedroom. Is your bedroom filled with clutter, a television, and a bed that isn't exactly comfy? Before you reach for the Ambien, reach for some comfy bedding, some donation boxes, and a closet organizer.
4. Black tourmaline. Here's a little known and highly effective (at least for me) sleep aid: a black tourmaline crystal. I found one I loved at a metaphysical store and now when I feel like relaxing really, really deeply, I hold it in my hand or place it near my body as I lie in bed. It gives me a very soothing feeling that's hard to describe. It's sort of magnetic in my body and slightly trance-inducing in my mind. Try it and see if you have a similar experience.
5. Chamomile. A nerve smoothing, spirit soothing relaxer, this little dried sunshiney daisy tea really takes the edge off. A couple of bonus benefits: it also comforts your stomach, cleanses your skin, and is healing to the urinary tract.
6. Kava. Some people say kava can be a little hard on the liver if you take it excessively, but other people say it's kind of hard to really take it excessively unless you go out of your way. Either way, I think it's best to take it on a semi-rare, as-needed basis rather than every single night. It's less of a sleep aid per se, and more of a relaxation aid. So it does help with sleep, but by helping your mind and body relax so that you drift off more easily. Which means you can also take a little during the day for relaxation and stress-relief (not sleep) purposes.
7. Valerian. Like chamomile, valerian is a healthy, non-habit-forming herb that really does help you sleep. I find it to be a little stronger than chamomile in that department, though. Do be aware: I have learned that some people (like my dad) inexplicably have the opposite reaction to valerian, and it causes them to be wired. But for me, as for most, it helps me nod off into a deep sleep and stay asleep throughout the night.