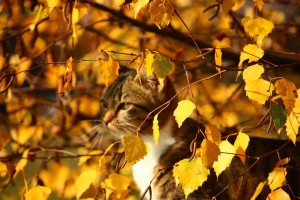 My mom and I used to sit on a bridge over a canal way out on the edge of our small farm town and practice what we called "Ninja invisibility" at the rare times that a car or pickup truck would pass us. To do so, we simply imagined ourselves to be transparent, and then we got a kick out of the drivers appearing not to notice us.
While our invisibility experiments were recreational, there are times when it would be ideal not to be noticed: when you're a private investigator, for example–or, you know, if you have another really valid reason to be sneaking around.
Choose a coat that will help you blend into your surroundings or feel as inconspicuous as possible. Empower two small iron pyrite crystals in bright sunlight for at least a minute or two, then place one in each pocket. If there are no pockets, tie them in fabric and safety-pin them to the inside. If, however, you foresee metal detectors or friskings, omit the pyrite and safety pins, and simply anoint each side of your coat (perhaps near the pockets or shoulders) very lightly with burdock essential oil.
At midnight when the moon is in Scorpio, spread the coat on a black cloth and cover it with anohter black cloth (or just use the same one by folding it inside of the cloth). Light a black candle. Direct your palms toward the coat as you chant:
Invisible, invisible, invisible, invisible
Invisible, invisible, invisible, invisible.
No one notices, no one sees.
No one knows, no one wonders.
Under the radar, under the radar, under the radar.
Envision yourself being completely transparent as you wear the coat and traverse the situation(s). Extinguish the candle. Hang the coat in your closet, and wear as needed.