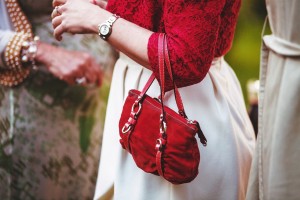 This is an excerpt from Magical Fashionista: Dress for the Life You Want.
Handbags and wallets are symbolic of wealth, both because they literally hold your cash and other payment options, and because they have the potential to add a look or feeling of affluence to your ensemble. For this reason, it's important to choose a handbag and wallet that enhance your feeling of wealth in some way, whether it's due to its color, material, pattern, or general appearance.
For example, you might choose a handbag that looks like something a rich person would carry, or simply a handbag that is a shade of green that makes you think of wealth and abundance. Additionally, you might like to choose a red wallet to activate your finances, a black wallet to facilitate financial flow, a green wallet to generally magnetize prosperity, or a purple wallet to keep you in the vibration of wealth.
A wallet that makes it easy for you to find things and get to them quickly will enhance your sense of ease around money, and consequently will provide a boost to your financial flow.