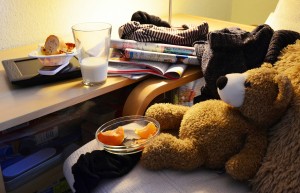 I talk a lot about cleaning and clearing clutter, because most of us can always use a little inspiration in these departments. But sometimes, some of us can be just the opposite: we clean and clear so much that we neglect other important aspects of living, and in these cases our homes may begin to feel sterile, standoffish, or un-lived-in. I was reminded of this yesterday when I read an essay in Martha Stewart Living called "Heart of Neatness." The essay's author, Nell Casey, writes:
"I've been to other people's homes and watched with envy as they've let them fall into cozy disarray with accumulating guests, serving trays, and half-full glasses. In those moments, I have a flash of what it must feel like for someone with an eating disorder to watch a friend guiltlessly devour a meal…Somewhere along the line, neatness became an illusory form of control for me…As always seems to be true, though, the balance lies between these two poles. There is hope in cleanliness and happiness in mess. And allowing for both – a constant loop between the two – is the only way to make room for life."
Doesn't she word it beautifully? It's a balance between the two: an inhale and an exhale. We want to keep it clean on a regular basis, and, like a child with finger paints or leggos, we also want to feel comfortable with the temporary "disarray" as we attend to the important, messy, creative business of living.