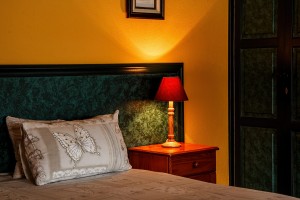 It seems every time Ted (boyfriend) and I take a trip, as I make little improvised shifts in the vibe of our accommodations, he tells me "you need to write a blog post about hotel room feng shui." But it wasn't until I found myself in (what I initially perceived as) an especially sterile, too brightly-lit, and decidedly un-vibey little motel in Minneapolis that I realized what a profound difference a few easy little changes can actually make in your overall mood and travel experience.
…So I thought it was finally time to write that post. And here are the tips:

1. Pack at least one but up to four or five pretty, flowy, colorful scarves. Scarves are the wonder drug when it comes to hotel room feng shui. Not only are they functional and easy to fit in a suitcase – they're pretty and they add texture, color, and character. Use one to cover the TV when not in use and use the others to:
Cover mirrors at night as necessary (so that you can sleep better – mirrors are energizing).
Cover windows to minimize not-so-attractive views while still allowing in natural light during the day.
(SAFELY!) cover lamps and lights to tone down excessive brightness and set a magical mood.
Decorate in other ways that feel fun and appropriate.
2. Bring one head of garlic. Garlic also takes up hardly any space in your suitcase and has a very protective and clearing energy that can (kind of) give you the benefits of smudging a space without having to set off any smoke detectors. Be sure to empower it in sunlight for 1-3 minutes before you leave and then, when you arrive, hold it in both hands and mentally charge it with the intention to transmute negativity and radiate positivity throughout the entire room. Set it on a desk or nightstand.
3. Call on helpers. Ask the Goddess (or angels, or whomever feels right) to clear the space of stagnant energy and to fill and surround it with positive, buoyant, protective energy.
4. Add flowers. Granted, this one may not be practical when you're only staying one night, but it makes SUCH a difference to have even a tiny bouquet or pot of fresh flowers in the room. It adds aliveness and brings in a touch of that fresh, growing feeling that even luxurious hotel rooms so often lack.
(…Do you have other tips? Please feel free to share!)