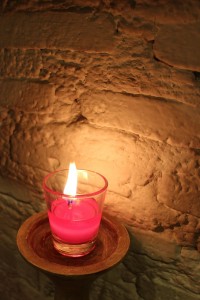 The Universe – i.e. us and everything that surrounds us – is a vast sea of constantly oscillating energy.  Even though it can sometimes make sense to describe energy as "good" or "bad," in truth it is simply neutral, simply energy. But just like water can be in a stagnant and festering puddle, or mixed with lemons and sugar, or falling from the sky, or swirling around a hot tub, this neutral energy can appear in many forms and can fuel, and be channeled toward, an infinite number of things.
When we transmute, we shift the momentum of a particular flow of energy so that, for example, a challenging pattern can become a helpful pattern, or a stagnant energy swamp can become a sparkly clear energetic fountain. Rather than fighting an energy pattern or saying "no" to it, we redirect it and reshape it so that we can keep its potency but redefine its qualities. When done with skill and clear intent, this allows us to welcome all conditions and experiences while simultaneously shaping our life experience according to our desires. It allows us to say "Yes!" to what is, while also saying "Yes!" to what could be, and to have a say in what happens next.
There are a million ways to practice transmutation, many of which we might practice without realizing it. For example, anytime we choose to "look on the bright side" or find hidden blessings in a seeming challenge, we are practicing transmutation. Or, when we bring living plants into our home, we are facilitating the transmutation of toxins and carbon dioxide into clean, oxygen-filled air. Or, when we channel our stress into a satisfying workout, we're transmuting tension into health and changing our frazzled outlook into one of relaxation and balance.
And, when we become aware of a challenging invisible energy pattern (such as discord or fear), there are lots of ways to employ the magic of transmutation to change it into a helpful one. Here are a few:
Ring a bell or chime, or chant "Om," and visualize/imagine/intend the energetic shift emanating out with the sound waves.
Burn India Temple Incense and allow the smoke and scent to affect the desired shift.
Call on the otherworldly alchemist Saint Germain to help transmute undesirable energies into desirable ones.
Visualize a "violet flame" or very bright purple/blue light filling the area containing the challenging energy pattern, shifting it in the intended way. (This can also be done in concert with the above suggestion, as Saint Germain is aligned with the violet flame.)
Light a bright, rose pink candle and visualize bright pink light transmuting negative emotions and/or tiredness into sweetness, joy, and energy.
Write or draw something relating to the situation or feeling and then safely burn it.