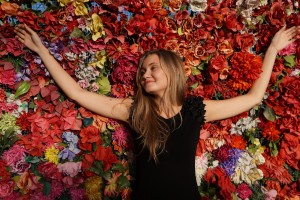 If you need some extra grounding – if your thoughts are all over the place, you're full of anxiety, or you just don't feel like you're comfortably inhabiting your body – you might like to perform this movement ritual.
When you're alone, put on some really sensual, sexy music that makes your body want to move. Slip on some comfortable clothing that feels great against your skin, then slowly begin to move in a way that feels good to you. Bypass your mind and tune into your body. Don't move a single muscle unless your body wants to. If your body just wants to lie down, just lie down. If your body just wants to stretch or pet the carpet or walk slowly in a circle or shake your hips, do that.
Take at least ten minutes to let your body be the boss, and stay awake to how it shifts and changes its desires. Notice how your skin feels. Listen to the sound of the music. Inhale the scent of the room. Feel the weight of your body pressing against the floor.
Open up your senses. Inhabit the present moment. Inhabit yourself.
P.S. This is an excerpt from Holistic Energy Magic! Check it out on Amazon here.