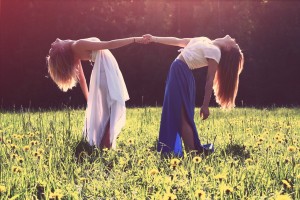 Depending on the sort of crowd you run with, you may or may not think that smelling like a hippie is a good thing. Well, as a resident of Venice Beach and an occasional attendee of hippie gatherings, I'm here to tell you that most – although I admit, not all – modern day hippie chicks (and even some of the dudes) smell divine. Often, even when I'm not wearing any scented oil or lotion (and I believe I would be classified as a hippie), I get compliments on my scent, and while I can't profess to know exactly what scent the complimenter is picking up on at any given time, I do have some ideas. Here are some of the ways I seek to infuse my life and presence with the sweet scent of lazily wafting incense.
I burn a lot of incense. Once, my brother said that wherever I live ends up having the same scent as the place I lived before, which I suspect is the smell of a New Age bookstore, due to all my incense burning, and just having incense around the house. I'm pretty sure it ends up drenching my wardrobe too.
I use and diffuse a lot of essential oils for various purposes. I love diffusing lavender for relaxation, sandalwood and jasmine for sensuality and intimacy, patchouli for comfort and grounding, clove for inspiration and warmth, ylang ylang for joy and a positive body image, and – well, really I could go on and on. The point is, having essential oils around and diffusing them regularly no doubt adds to the incense effect…Oh, yeah, and sometimes I mix geranium and lavender in my body lotion to balance my mood and lift my spirits.
I put packets of incense in my clothing drawers. There's a really great import store in my neighborhood called the Kathmandu Boutique. Every time you make a purchase, they throw in a free pack of floral Indian incense: rose, jasmine, gardenia, or mixed floral. I love throwing these colorful little packets in my clothing drawers.
I use Mrs. Meyers basil laundry soap. Mmm, how I love the scent of this eco-friendly laundry soap, and oh how I love the way it makes my clothes smell…and oh, how I love doing laundry in general – but that's another story for another day.
I anoint myself with delicious smelling natural oils such as Hoodoo Root's Magnetic Charm Oil and/or super yummy, woodsy Kuumba Made oils such as Arabian Sandalwood. If inhaling a (natural, kindly-created) scent makes my knees week, my toes curl, and my belly feel all cozy and comfy, I know it's one that I want to wear regularly, since it puts me in a dreamy, euphoric, sensual mood and opens me up to the beauty of the moment. Similarly, my boyfriend likes to wear straight patchouli right out of the bottle. On the few occasions when he has caught flack for it from his buddies, he tells them with confidence that "chicks dig it." (I do at least!)