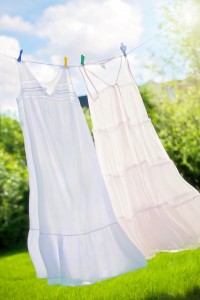 I love laundry. NO: I mean I really love it. Sometimes while I'm doing laundry, I think "I wish I could just do laundry every day of my life, and have all my days revolve around laundry." Surely, in real life, anything done exclusively could get monotonous (even trips to the spa!), but regardless, I do find myself sometimes fantasizing about laundry-filled days.
Why do I love it so? Let me explore. Perhaps my revelations will inspire you to love laundry more than you do now, whether you're not currently a fan or are already a devotee. And why not love it? You're going to do it anyway.
Six things I love about doing laundry:
1. The scent of Mrs. Meyers Detergent. I will admit: while switching my products to eco-friendly ones, laundry detergent was one of the last things to go. I just love a strong, clean scent you see. And Mrs. Meyers delivers that, without that toxic, headachy, overpowering scents that you get from most mainstream scented detergents. I use both Mrs. Meyer's detergent and softener, and I even use the detergent for those garments that need to be hand washed. It's powerful and gentle like that. I can't say I dislike any Mrs. Meyer's scents, but I especially love basil (which includes real pepper and parsley). Bluebell is also delicately delicious (sage, lavender, patchouli, lemon, ginger, bergamot, vetiver, jasmine) , and I recently tried the new sunflower scent (orange, clove, bergamont, lime, lemon, rosewood, sunflower), which is very clean and fresh, like pure white linens blowing on a clothes line under a bright blue sky. I love this new one too, and I highly recommend it to those of you who like fragrances that are clean, clean, clean.
2. The feeling of empowerment. It's not too complicated to transform dirty clothes into clean ones, yet it gives me a power trip, as if it were a secret magical ability. I really feel this empowerment also when I use my steamer on my more delicate items: it's like a disinfecting, de-wrinkling laser gun: how fun is that?
3. The relaxing sound of the washing machine and dryer. The sound of laundry is so soothing! So much so, in fact, that on my white noise app on my phone, I sometimes like to listen to the dryer setting! It lulls me into a feeling of coziness and comfort.

4. The meditation of it all. Similar to the Buddhist saying, "chop wood, carry water," washing clothes brings me into the present moment and reminds me of the simple, everyday miracles that characterize this mysterious business of being alive.

5. Pressing the reset button on my wardrobe. As I wash, I like to know that when I'm finished, I will have the availability of my full wardrobe (or at least more of it than before, depending on how many loads I'm doing).
6. Expressing love. When I fold one of Ted's shirts, I think, "Aww! He's going to wear this!" And I fold love into it, knowing that he will feel that love in a subtle yet real way when he wears it.
…What do you love about laundry day?