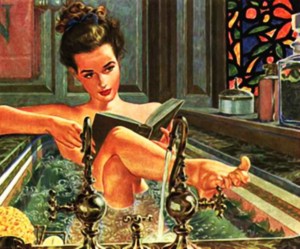 Everything is connected: inner and outer, spirit and form. When we overvalue the physical at the expense of the non-physical, we become shallow, materialistic, and over-concerned with external ideals of perfection. When we overvalue the non-physical at the expense of the physical, we may lose our sense of grounding and sensual comfort, as well as our vital mind-body connection to our health and emotions.
Since we're taking care of our physical body every day anyway, consciously infusing our daily rituals with intention can unify spiritual and physical, which enhances our sense of wholeness and holistic well-being. Here are some ideas for how to do this.
Mouth
In ancient Chinese lore, the mouth of the body is also the "mouth of chi," where we literally draw in nourishment in the form of breath and food, and where we symbolically draw in nourishing blessings of all varieties. With this in mind, while brushing or flossing, you might think, "I now clear the way for abundance to flow. Minty fresh blessings now swirl into my life in abundance." While applying lip balm (perhaps in a wealth-drawing scent, like mint or cinnamon), you might think, "I am affluent. I draw from an infinite wellspring of abundance and luck."

Hair and Scalp
Hair also represents abundance, and washing your hair represents clearing away old energy and making room for the new. (As in, "I'm going to wash that man right out of my hair.") As you wash and massage your scalp with a beautifully scented shampoo, you might think, "I now clear away all that does not serve me, and welcome in the new." As you condition, you might think, "I dwell in luxury. I revel in my senses. I enjoy the beautiful experience of being alive."
Hands
The hands are an energetic emanation of the heart, which is why energy healing uses the hands, and why hearing that something is "handmade" immediately gives you the feeling that it's infused with love. They both project energy and offer items to others, and receive energy and items from others. Our hands are also very hard workers and perform the hard work of washing dishes, cleaning, typing, writing, folding laundry, and all other sorts of daily tasks. With all this in mind, when we care for and adorn our hands, we might think, "Thank you, for all that you do," or, "All that I do today, I do with love," or, "I give fully from my heart, and I receive love and blessings freely." Hand lotion with a receptive, loving scent such as from rose absolute or jasmine essential oil, can help put us in a receptive and loving state. Or, adding a few drops of something potent like rosemary or geranium can refresh our energy and support a day of housecleaning or hard work.
Skin
Our skin is the place where we literally intersect with the world around us. And the fact that it's porous is a reminder that we are not, in fact, separate from the world, but one with it. We dwell in a sea of consciousness and life. Treating our skin lovingly and taking good care of it supports our self-love, receptivity, and sense of healthy protection. When we wash it and dress it with lotion, we might think, "I love and approve of myself," "I radiate beauty," or, "I am perfectly safe and protected – I dwell in a sea of love, and only love abides within and around me."
Feet
Our feet are the place where we intersect with the earth, and they are very grounding. They also represent our understanding of ourselves and the world around us. Massaging lotion into our feet, we might think, "I am grounded in the physical world," "I am sensually awake and aware," or "I dwell in a deep understanding of who I am. I am grateful for all that I am, and all that I have."