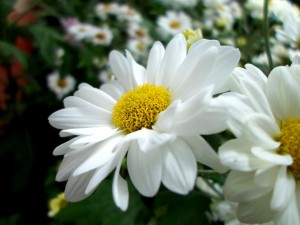 I'm a big fan of simplification. I've found that the more we pare down the extras, the more pure enjoyment can shine through everyday life. When we have fewer things, we're more likely to appreciate the things we have. When we spend less, we can save more. When we have less we have to do, we can enjoy doing even the little things. Simply put, simplification engenders simple joy.
And lately, I've been looking at ways to simplify my life even more than ever before: to go beyond clutter clearing and set up streamlined, clutter-free habits right out of the gate.
Here are some of the reminders and tips I've been kicking around:
Instead of immediately deciding to order take-out or going grocery shopping, you might think: "what can I make out of the food I already have in my cupboard and fridge?"
When shopping at Target, the mall, or the grocery store, you might think, "Do I really need this? Or do I have something else that will already work for this purpose just as well?"
When it comes to entertainment, appreciate the simple things, for example: petting your cats, laughing with your family members and/or partner, taking a bath, gardening, listening to music, cooking dinner, or gazing up at the moon and stars.
If you're in the mood for a getaway or a spiritual tune-up, gather up your dog, your partner, and/or your family, grab a tent, and seek out a campsite. (Or just go for a picnic or a hike.) Spending time with Mother Earth is better than a massage when it comes to finding our inner equilibrium and realigning with our spiritual center.
Remember that life is uncertain, and that each moment is precious. And you already have everything you need! Whenever possible, look on the NOW as the profound, priceless gift that it is.