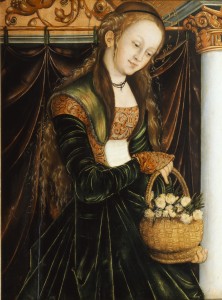 I often can't help but see stories of saints – particularly stories of martyred female saints – as stories of the survival of the Great Goddess. These stories may or may not have been consciously designed with that in mind, and for that matter they may or may not be true. However, the fact that they've resonated so strongly with so many for so long shows that there's something archetypal about them, and that they are true in some very real (if not literal) sense.
Case in point, Saint Dorothea of Caesarea, who – the story goes – lived in Turkey around 300 C.E. After supporting two persecuted Christian women in being true to their faith despite the threat of torture, she was tortured and then sentenced to be beheaded. As she approached her grisly fate, a government official named Theophilus teased her by saying something like, "Hey Dorothea, why don't you send me some apples and roses from heaven?" She then replied seriously with words to the effect of, "I shall."
Luckily, Dorothea was granted some time to herself to pray before her execution. While she did so, an angel arrived with three roses and three apples in a basket. Dorothea requested that the angel deliver these items to Theophilus, which he did after her death. Because it was the beginning of February, this was seen as a miracle.
Regardless of the group who was responsible for the beheading (and in the story it was the pagans), you might say that beheading people for their faith is an indication of an overabundance of masculine energy, i.e. powerful masculine energy not sufficiently aspected by powerful feminine energy. Certainly the people with whom Dorothy gained popularity – the early and medieval Christians – did not support or recognize Goddess worship, and the general feeling among this group around these time periods was, in very real ways, violent, intolerant, and generally anti-female.
If you'll notice, the beginning of February is precisely at the opposite side of the wheel of the year from Lammas, the ancient festival of first fruits, celebrated beginning of August (i.e. right about now). Considering the dark and violent cultural climate (comparable to an inhospitable winter) in which Dorothea lived and gained popularity, you might interpret the fruit and flowers to be symbols of the unflagging survival of Goddess energy, which encompasses life, love, warmth, and nourishment.
Additionally, the name Dorothy means "divine gift," which is precisely what we consider the first fruits to be as we give thanks for them at Lammas. And of course, roses and apples are both potent symbols of love, femininity, and the Great Goddess.
With all of this in mind, if you celebrate Lammas (or if you'd like to start), you might consider invoking Saint Dorothea as a part of your ritual celebration. Of course, an ideal offering to her would be (you guessed it!) a basket containing three apples and three roses. Saint Dorothea is also the matron saint of fruit trees, so if you ever want to bless a fruit tree, Saint Dorothea might be just the helper on which to call.
Here's an invocation to Saint Dorothea, which is derived from her prayer. I've altered it to be relevant to Lammas and to those in Goddess-centered traditions.
Saint Dorothea, emissary of the Great Goddess,
By your divine radiance, and against all odds,
You reminded two sisters of their sacred truth,
And lovingly sent roses and apples, which sowed the seeds of understanding.
You kept the sacred fire of the Goddess burning throughout the cold and dark night,
Keeping our hearts warm and spirits alive.
Dorothea, for this, we thank you.
Please bless us and ground us in our truth as we give thanks for our physical blessings as well as the spiritual fruits and flowers of our practice.
Please renew us, bless us, and align us with your kindness and your strength.
By the Great Goddess who eternally endures, we thank you.
Blessed be.