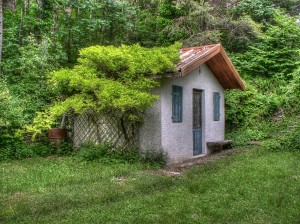 Residential downsizing is in. Not just because of economic conditions, but also because many of the currents of energy that characterize this time in history have to do with teaching us to let go of our identification with the material world and showing us that in many cases, less really can be more.
My clients and readers often ask me what to do about moving from a bigger to a smaller space and consequently having what feels like too much stuff. Or what to do about having a small space and acquiring too much stuff. Not clutter exactly, but stuff they really like and just don't currently have the space to comfortably keep. So I thought it was time to write a post about it.
I'm not going to sugarcoat it: my first bit of advice is to do some serious clearing. But I understand that this might seem difficult right now, or even impossible, so here are some things to keep in mind. 
1. Just because you spent a lot of money on it, it doesn't mean you're being wasteful by letting go of it if it doesn't happen to fit into your life right now. If you paid for it to begin with, and instead of helping you it's holding you back, energetically speaking, you're still paying for it. For example, if you paid ten bucks for a plate of food, and then it spoiled for whatever reason, would you then eat it "to get your money's worth?" Of course not. Because then you'd be sick and out ten bucks. In economics, this is called "the law of sunk costs," and you're always supposed to ignore sunk costs so that you don't get in any deeper than you already are.
2. Letting go doesn't mean wasting, period. Everything is energy. And what we send out always returns to us multiplied. So if we donate something, or give it to a friend (especially when we do so with good intentions), we are transmuting something that doesn't fit in our life right now into something that does fit in someone else's life. In effect, we're sending out blessings and wealth. And, energetically speaking, these things can't help but return to us in one form or another.
3. Having a mindset that attracts prosperity means having faith that what you need will be there when you need it. In other words, when we hold onto things that don't fit in our lives right now, it's very likely that this is because on some level we believe that there will be a time when we will need these things and won't be able to easily afford them. Needless to say, this belief is not conducive to manifesting the future that we truly desire. So first work on the belief, and then when you can do so with trust and prosperity consciousness, let go.
4. When it comes right down to it, things really are just things. Regardless of how much sentimental value something has – or even more challenging, how much sentimental value you think it should have – it's important to take a good honest look at the pay off in your current life situation. Perhaps you can take a picture of it and send it on its way. Perhaps you have a friend or relative who would love to borrow it or adopt it. The important thing is to remember that the present moment is the treasure, not the past, and certainly not stuff that isn't really the past at all but just stuff that reminds you of the past. So if this old stuff is holding you back from enjoying the present moment and enjoying your life to the fullest, it's just not worth keeping.
5. Happiness and comfort are what make up true prosperity – not stuff. So if your stuff is keeping you from being happy and comfortable in your space, it's the opposite of prosperity: it's poverty.
All that being said, if you clear all you can and you still feel cramped in your space, here are some additional tips:
Hang a faceted feng shui crystal from the ceiling in the very center of each room. (The spherical kind that's clear and about the size of a quarter.) Then stand under and slightly to the side of a crystal in one room, hold your hands in prayer pose, and envision the space expanding and expanding in each direction. Then direct your palms toward the crystal and say, "Om ma ni pad me om" nine times (count 3 times 3). Repeat in each room.
Create vertical space. Small areas (especially kitchens) can often feel bigger when you decorate upwards by layering elements such as pictures, shelves, decorative borders, window dressings, and/or mirrors from the middle to top of the walls.
And finally, use mirrors generously, especially across from windows and in places that could use a bit more energy and light.
P.S. Did I mention I live in a tiny apartment?
P.P.S. For more clutter clearing motivation, read chapter one of Magical Housekeeping, and stay tuned for my rapidly forthcoming e-book: Magical Clutter Clearing Boot Camp!