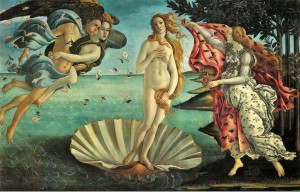 You've got the candles, the ambient lighting, and the chocolate-dipped strawberries. But none of these guarantee that subtle, elusive, and yet ever-so-important little Valentine's Day essential…a romantic vibe.
Well lucky for you, this fun little love goddess visualization has got you covered. Before the big night, simply clear clutter, dust, and sweep as necessary, and then light a red candle and settle in.
Close your eyes and sit comfortably with your spine straight. Take some deep breaths and consciously relax your body. Now visualize and call on a divine, glowing vacuum tube of light. See it powerfully moving through your home, vacuuming away any and all heavy, stagnant, or otherwise negative energy. Next, visualize/call on a very bright sphere of blindingly bright, golden/white light (like the sun) to completely fill, animate, and surround your entire home. See this light transmuting any and all lingering negativity into positivity and blessings, and getting the energy moving in a healthy and harmonious way. When this feels complete, call on the Goddess of Love, with any of her names/incarnations that feel powerful for you: Venus, Freya, Aphrodite, etc. (Or simply "Goddess of Love.") Ask her to fill your home with etheric rose petals of bright pink and deep red light. See these rose petals of light coming up like a fountain through the center of your home and then swirling around whimsically, in a slow, clockwise direction. Feel and notice the sweetness and sensuality that these rose petals bring to your home. Ask the Goddess of Love to stay throughout the day and evening, continually blessing your home with the energy of divine romance and luxurious sensuality.  From the bottom of your heart, express gratitude to Her for doing this.
Then…later…relax and enjoy!