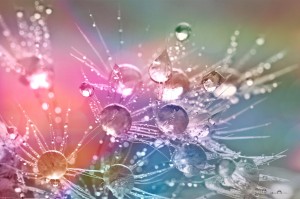 Recently, I taught a workshop called Essential Magical Hygiene, during which I led participants through a daily meditation practice that incorporates grounding (connecting with the earth), chakra clearing, aligning with the realm of pure potentiality (connecting with sky), shielding the aura, and intention setting.
Afterwards, a woman approached me with an excellent question. "My life feels very overwhelming right now," she said. "I'm between homes, and everything sort of feels up in the air. I want to incorporate something like this, but it feels like it would be too forced at this particular time. So what can I do instead?"
What I loved about her question was her honesty, with both me and herself. Because, while it's important to push ourselves a little bit to begin to establish positive habits in any arena (spiritual, mental, or physical), it's also important to be truthful with ourselves about where we can actually start. Because the important thing is that we start! And if we begin with insurmountable goals, we sabotage ourselves before we even begin.
If, on the other hand, we start with something that feels manageable, we can create the space in our schedules and our lives for our spiritual practice, and then add onto it – deepen it – over time.
After speaking with her a bit more, I recommended that she take four drops of Rescue Remedy first thing in the morning and last thing before bed, followed by relaxing with her spine straight, closing her eyes, taking a few deep breaths, holding her hands in prayer pose, and chanting a mantra three times. I suggested "Om," or "Ong namo guru dev namo," but said that if something else felt more powerful to her, she could go with that.
This way, she could ground and center herself, open doors of opportunity in both physical and spiritual realms, and begin to create the space in her life for a more involved magical hygiene practice.
If this resonates as something that might be helpful for you at this time, you might follow these directions or choose a variation on the theme. For example, instead of Rescue Remedy, you might choose:
White chestnut essence to clear your mind of obsessive or excessive thinking
Crab apple essence to facilitate self-love and self-acceptance
Wild oat essence to help you connect with your soul's highest vision
Vine essence to let go of the need to micromanage and to trust the details to the God/dess.
(These are all available as Bach remedies.)
And, instead of "Om" or "Ong namo guru dev namo," you might choose:
"Ra ma da sa, sa say so hung," for balance.
"Om ma ni pad me hum" for getting in the flow of opportunities and blessings.
"I love and approve of myself. I am safe and all is well," for grounding in the moment and shifting the tide of your thoughts from negativity and fear to positivity and joy.
"I dwell in abundance. I have plenty. I am perfectly loved and perfectly provided for," to align with divine prosperity, feel secure, and open the floodgates to blessings of all forms.
…Or choose your own!