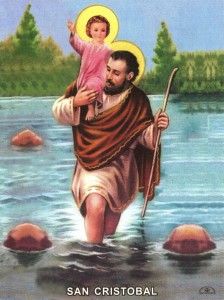 Holiday time is just about to roll around again!  Before you get all caught up in the traditional hustle and bustle, now might be a good time to take a moment for magical self-care by ensuring that your holiday travels (in addition to all your other journeys and trips) are safe, blessed, and divinely protected.
Here are a few ideas.
The Simple Car Protection Charm.  Go for a walk or a hike in the woods.  Relax and tune into the energy Earth as you walk.  When you feel sufficiently tuned in, find a place where you won't be disturbed and stand with your feet planted firmly on the earth.  Take a few deep breaths and relax, allowing the Earth energy to enter through the soles of your feet.  Now, close your eyes and inwardly discuss your intention with the Earth.  You might silently communicate something such as:
"Earth, thank you for connecting with me.  I am here because I would like to align myself and my car with your wisdom and powerful protective energy, so that we are perfectly safe and perfectly protected in all situations.  Please guide me to a rock that will serve this magical purpose well."
Then open your eyes and continue your walk.  Follow your intuition and allow yourself to naturally be drawn to a simple small or medium-sized rock.  Hold it in your hand and thank the Earth for Her gift.  Keep the rock in your car at all times.
The "Aad Guray" Chant.  In Kundalini yoga, this chant aligns you with divine wisdom and allows you to be one step ahead of the usual flow of time so that you can dwell in the safest most auspicious reality possible.  It goes like this:
"Aad guray nameh
Jugaad guray nameh
Sat guray nameh
Siri guru devay nameh"
You don't have to chant it with any special rhythm or melody, but if you want to know what the words sound like, you can listen to them here.  Try relaxing, holding your hands in prayer pose, and chanting at least three times in the morning or just before starting any journey.  You might like to chant in your car to empower your car with the energy of the chant too.
A Prayer to St. Christopher.  St. Christopher is the patron saint of travel.  Call on him before any journey and thank him for ensuring that you enjoy your travels and arrive safely and in good spirits.  (Incidentally, whenever I call on St. Christopher, this really awesome Tom Waits song comes to mind.)
Six Angels.  Six is the number that corresponds with divine help and safe travels.  Every day, as part of your meditation, you might like to request that six angels watch over your vehicle, keeping it – and everyone in and around it – safe.
(…And please feel free to share your own magical travel tips below – I'd love to know about them!)