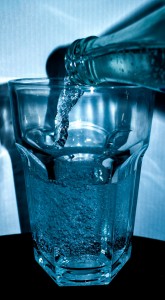 A subtle-yet-powerful way to establish inner peace, and consequently create ripples of far-reaching positivity and healing, is to infuse our everyday drinking water with magical vibrations.
Begin by making sure that you have a water bottle that you love – it is, after all, (like a wand or a broomstick) one of your magical tools.  Then, you might consider blessing your water with one or more of the following alchemical enhancements:
Add a few sprays of pure rose water to open your heart and attune your personal vibration with divine love.
Add a few drops of a flower or gem essence such as weeping higan cherry tree essence for spiritual protection and courage, or fluorite essence to "un-stick" negativity and get your energy flowing in a balanced and vibrant way.
Hold your water bottle in both hands and visualizing very bright cosmic light coming down from above, entering the crown of your head, going down into your heart, out through your palms, and entering the water, which then swirls and pulsates with the healing energy of the light.
Write a healing word or two on the bottle, such as "clarity," "gratitude," or "love."  Or, stick on one of these blessing labels.
Say a simple prayer of blessing, asking and affirming that the water be filled with the exact healing vibrations that are specific to your current needs and desires.