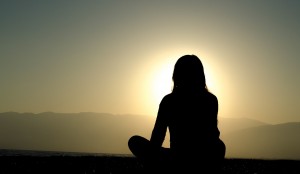 You might do this ritual before or after getting dressed for an occasion at which you'd like to shine.
Light a white candle and a stick of cinnamon or jasmine essence (or diffuse cinnamon or jasmine essential oil). Sit comfortably, with your spine straight. Close your eyes and take some deep breaths as you consciously relax your body.
When you feel ready, cup your hands around the flame at a safe distance. Imagine the light and energy from the flame entering your hands as you say:
This is the divine light of charm and grace.
I recognize that this light is within me now.
As I acknowledge my own divinity, my light and potency grow.
Now place one hand on your heart and one hand on your belly. Feel yourself imbibing and absorbing divine radiance. Open your arms wide, as if you're about to embrace someone. Envision divine light coming down from the sky and entering the crown of your head, and also coming up from the core of the earth and entering through your tailbone, converging and endlessly radiating from your heart and hands. Say:
I am confident beyond measure.
My charm goes on for days, 
My beauty knows no limits.
I am safe in my life, and at home in my body.
I happily bless others with my divine radiance.
(This is an excerpt from Magical Fashionista: Dress for the Life You Want.)